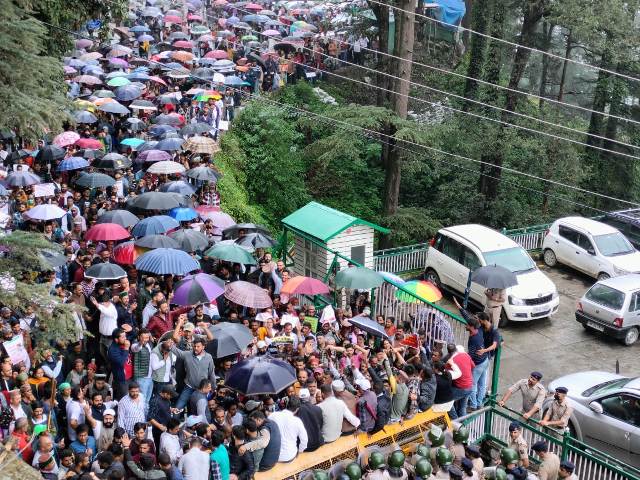 Apple growers from different parts of the state held a massive protest at Shimla on Friday, forcing the state government to hold talks amidst anxious moments with their representatives and concede some of the demand raised by the growers.
Thousands of apple growers including sizable women, representing twenty seven organizations under the banner of Sanyukt Kissan Manch (SKM) assembled at Sanjauli Chowk and marched to Himachal Pradesh Secretariat Shimla raising slogans and carrying banners.
The confrontation between the protesters and police was avoided by the intervention of senior leaders of the SKM including CPM Theog MLA Rakesh Singha as some of the protesters tried to push away the barricades raised by the police.
Police had made elaborate arrangements and put up barricades on both sides of the secretariat gates. A large posse of police personnel was stationed and  fire fighting engines deployed. Director General of Police Sanjay Kundu along with senior officers remained present near the secretariat.  
The Sanyukt Kissan Manch had mobilized the apple growers on its twenty point demand charter. Their main demands include abolition of GST on purchase of fruit and vegetable cartons and trays, implementation of Market Intervention Scheme (MIS) for A, B and C category apples on the pattern of Kashmir, clearing all pending payments for purchase of apples from growers by HPMC and HIMFED, increase import tax to 100 percent on apples, implementation of APMC Act strictly, besides other demands.
The state government invited the leaders of the SKM for talks in the afternoon to hold talks with the Committee headed by Chief Secretary RD Dhiman, formed to look into the demands.
President of Himachal Kisan Sabha Dr Kuldeep Tanwar said , "The state government has assured to implement six percent GST relief on purchase of cartons and trays by finding ways as suggested by the Manch to provide this relief directly through sellers as it would be very difficult for the farmers to claim the GST refund,  the state government has also assured to clear pending payments of growers within two weeks and has asked the government agencies to purchase adequate supply of pesticides and insecticides, etc."
The leaders of the SKM said , " There are many issues which need immediate intervention of the state government as apple growing is in crisis ; the SKM would hold a meeting to discuss these issues and decide its future course."