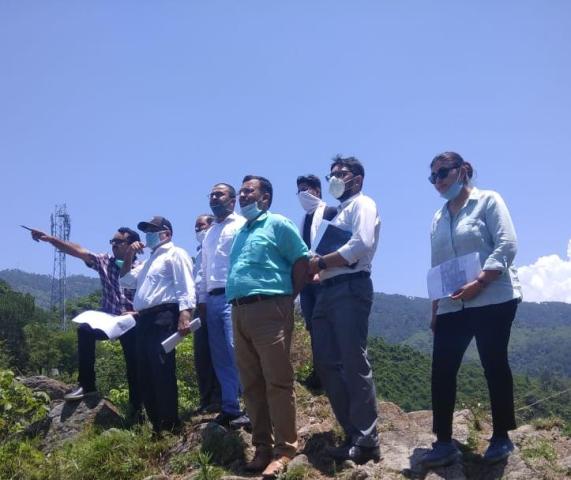 The proposed international airport project in Balh valley of Mandi district got a further boost after a survey by a technical team from WAPCOS Limited company to clear certain technical points to prepare a project report for the airport.
The technical team was assisted by officials from Mandi district administration which made a ground survey of the site being selected for construction of the airport at different locations.
"The WAPCOS is a private company which provides expert advice on different issues to several government departments and made a survey of proposed opening and closing points for landing of airplanes on the site", said an official of the district administration.
The construction of an international standard airport in Mandi district has been the dream project of Chief Minister Jai Ram Thakur and he has been making concerted effort to start the project in Balh valley of Mandi district.
Few months back the Civil Aviation Ministry of the Central government had given its approval for construction of an international airport in Balh Valley of the district. The Central government would bear the construction cost of the airport project to the tune of nearly Rs two thousand crores.
A team from the Airport Authority of India (AAI) had conducted Obstacle Limitation Survey (OLS) some time back and Chief Minister Jai Ram Thakur had made an aerial survey along with the team of the proposed airport site.
There are still a few hurdles in the construction of the airport in Balh Valley as a section of farmers is opposing the project as more than thirty five thousand bigha land would be required including private land of local farmers for the project.
The farmers are demanding adequate compensation as the land in the Balh valley is very fertile and is known for growing cash crops like tomatoes and other vegetables. The farmers are also demanding rehabilitation before acquisition of their private land.
Deputy Commissioner Mandi Rugved Thakur said, "A technical team has made a survey of the proposed airport site and would submit a report to the AAI for preparing a detailed project report of international airport project in Balh valley."