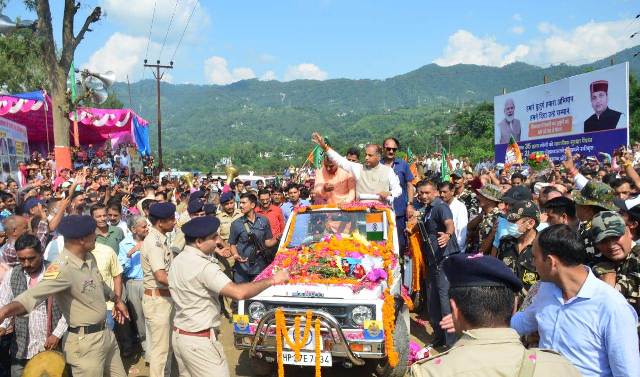 Chief Minister Jai Ram Thakur said Home Guards jawans would be given round the year duty without a break.
Presiding over a state level function of State Home Guards Welfare Association at Sunder Nagar on Sunday he said, "Nearly 8000 jawans are e assisting police and working on deployed on other emergency duties."
He said," The Home Guard organization was first established in 1946 in Bombay province to assist security agencies including the police and the army and help people in case of any emergency."
The CM said, "Home Guards have been working in the state since 1962 when the organization was established in the state to inculcate the spirit of service, courage and patriotism among citizens, besides taking their services to maintain law and order."
He said, " The state government has made substantial increase in the honorarium of Home Guard jawans and increased its from Rs 675 to Rs 883 and a jawan is getting a monthly honorarium of Rs 26492 at present and state government is spending Rs 34 annually on this account."
Thakur said, "The recommendations of the Sixth Pay Commission have been implemented for all the employees, which has benefited lakhs of employees of the state and arrear has also been paid from January 1, 2016 to December 31, 2021 and Home Guards jawans posted outside from the state are being given daily allowance of Rs 60
He said, "They are being paid 31 percent DA on basic salary and Rs 30 as washing allowance and the state government has increased the rank allowance of Home Guards posted on honorary posts in the Defence Department; rank allowance of company commander to section leader has been enhanced, besides giving them other facilities ."
The members of the association contributed Rs 1.51 lakh to CM Relief Fund on the occasion.
The Chief Ministers also addressed a public meeting at Kot in Nachan Assembly Constituency where he was accorded warm reception. He also laid the foundation stones of several development projects and attended a few other programmes during his tour on Sunday.
Several MLAs and other dignitaries remained present during these programmes.