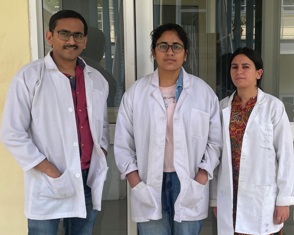 A team of researchers from the Indian Institute of Technology (IIT) Mandi has identified a molecule which can be used in the drugs for treatment of Type 1 and Type 11 diabetes.
The molecule called PK2 is able to trigger the release of insulin by the pancreas and can potentially be used as an orally administered medicine for diabetes.
The findings of the research conducted by Dr Prosenjit Mondal Associate Professor school of basic sciences in association with Dr Sunil Kumar working with ICAR –IASRI New Delhi, Dr Budheswar Dehury, ICMR RMRC, Bhubaneswar, Dr Khyati Girdhar, Shilpa Thakur, Dr Abhinav Choubey, Dr Pankaj Gaur, Surbhi Dogra, Bidisha Biswas (all from IIT Mandi) and Dr Durgesh Kumar Dwivedi from the Regional Ayurvedic Research Institute (RARI) Gwalior, has been published in the journal of Biological Chemistry.
Telling about the findings Dr Mondal said, "Presently drugs administered to diabetic patients i.e. Exenatide and Liraglutide are quite costly but as per our findings these can be replaced by cheaper substitutes."
He said, "Diabetes is caused by insufficient release of insulin in beta cells from the pancreas in response to blood glucose level. It entails an intricate biochemical process and involves protein structures called GLP1R present in the cells. A hormonal molecule called GLP1, released after the ingestion of a meal, binds to the GLP1R and triggers the release of insulin. Exenatide and Liraglutide mimic GLP1 and bind to GLP1R to trigger insulin release."
Dr Girdhar, said, "We first tested the binding of PK2 on GLP1R proteins in human cells and found it is able to bind well to GLP1R proteins and help in triggering insulin release by beta cells can be replaced with oral medication instead of injection and can even reverse loss of cells ."
"Within two hours after giving PK2 to mice the molecules passed into liver, kidney and pancreas but there was no trace of it in heart, lungs and spleen, even increased insulin level six times more," he adds.