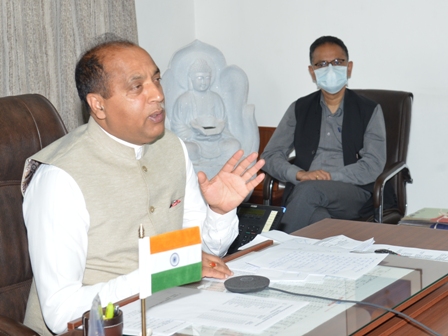 Chief Minister Jai Ram Thakur inaugurated seventeen upgraded government schools in his Seraj Assembly Constituency, virtually from Shimla on Sunday.
Addressing people on this occasion Thakur said, "The move would help students to study in the schools near their homes saving them from travelling long distances and assured additional buildings would be constructed soon in the schools."
He said," The state government has ensured equal and all round development in every area of the state with emphasis on developing basic infrastructure for education, besides taking initiatives to provide solar energy in the schools as fifty solar panels have been provided. "
The CM said, "The AYUSH gardens would be established in 200 government schools and 50 government colleges in collaboration with Forest and Ayush departments where aromatic and herbs would be grown."
He also talked about progress made in the field of education in the state and said financial assistance is being provided to meritorious students from the weaker section for higher studies in medical, engineering etc and Rs one lakh has been given to a hundred students of class eleventh for getting high marks in tenth class.
The schools which were upgraded include Government Primary School Surangi, Kau, Kandhi, Kothda and Majhan upgraded to middle schools, Government Middle School Jhot, Shalagad, Bahwa, Raingalu, Kalhani and Narayanban upgraded to high schools, Government High School Dharotdhar, Mani, Seri-Batwara, Baghi-Bhanwas, Sudharani, Lambsafad and Chaplandidhar upgraded to senior secondary schools.