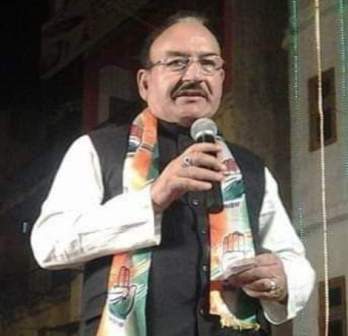 As hectic political activity has begun in both BJP and Congress for the selection for candidates for Mandi Parliament and three Assembly constituencies of Himachal Pradesh where by-elections are likely to be announced soon, it seems Congress may bank on senior party leader Kaul Singh Thakur for the Mandi parliament seat.
Congress and BJP are holding party meetings at different levels for gearing up party cadres for the crucial by-elections and also eliciting their opinion for selection of party candidates.
The by-election of three Assembly seats i.e. Arki , Jubbal –Kotkhai and Fatehpur have been effected by the death of former CM Virbhadra Singh, Narender Bragta and Sujan Singh Pathania , respectively . The Mandi parliament seat has also fallen vacant due to the death of Ram Swaroop Sharma.
The by-elections have gained importance as the ruling BJP and opposition Congress would be making all out effort to win the three Assembly and Mandi Parliament seats with Himachal Assembly election due in 2022 .
Since a trend of change of state government after every five years in the Hill state is continuing for the last many decades, the opposition Congress would be making a determined bid to regain the people's mandate. On the other hand, the BJP government headed by Chief Minister Jai Ram Thakur is also looking to reverse this trend through mission repeat.
Mandi parliament seat has been a traditional Congress seat for many decades and was represented by veteran Congress leaders Virbhadra Singh, his wife Pratibha Singh and former Telecommunication Minister Sukh Ram.
For BJP the seat was won five times in 1977 (Janta Party), 1989, 1998, 2014 and in 2019. In 2014 BJP candidate late Ram Swaroop Sharma had sprung a surprise by defeating Pratibha Singh , wife of sitting CM Virbhadra Singh by over 40,000 votes. In 2019 he had retained the seat and defeated Congress candidate Ashrey Sharma by a huge margin of nearly four lakhs.
The equation here has changed after Jai Ram Thakur hailing from Mandi district became Chief Minister of the state and every election in the home district of the CM has gained importance.
There are many aspirants for the BJP ticket for Mandi seat but the final selection would be made by the BJP high command in which the CM's recommendation would definitely matter.
After the demise of six times former CM Virbhadra Singh the electoral battle will have to be fought in the absence of the most popular, charismatic and biggest vote catcher. Several Congress leaders are vying with each other to attain the state leadership and coming elections would be quite challenging for the Congress.
A meeting of Congress party leaders and workers was recently held at Mandi in which leader of the opposition in State Assembly Mukesh Agnihotri; senior leaders Asha Kumari, Gangu Ram Mussafir, besides others attended the meeting.
A source said, "Pratibha Singh and senior Congress leader Kaul Singh Thakur are the choice of majority of party leaders and activists but Congress high command has left it to the family of Virbhadra Singh to choose between Arki Assembly and Mandi parliament seat."
"In all probability Pratibha Singh is likely to opt for the Arki Assembly seat and in that case Kaul Singh Thakur would be the natural choice", he added.
But Kaul Singh Thakur is also in the race of leadership of HP Congress and there would be many ifs and buts over his candidature .
Mukesh Agnihotri said, "The Congress candidates for by-elections including the Mandi Parliament seat would be decided by the party high command."