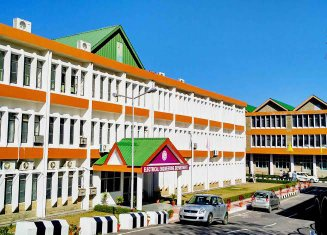 With the stripping of powers of Director of the National Institute of Technology (Hamirpur) by Union Ministry of Human Resource Development ( HRD) for alleged irregularities in recruitment of faculty members and other charges , a committee set by the ministry would start investigation next week .
The Director of NIT Hamirpur Prof. Vinod Yadav was divested of his powers and sent on leave to probe the allegation of irregularities raised by Congress MLA from Sujanpur Rajender Rana and a section of employees of the institute and Prof Lalit Awasthi Director of NIT Jalandhar was given additional charge.
It is not for the first time NIT Hamirpur is in the dock for several irregularities. Former Director Prof. I K Bhatt was also accused of committing many irregularities during his term as NIT Director and Central Bureau of Investigation (CBI) had conducted a raid in the NIT campus in 2012.  However, Prof. Bhatt could not be nailed for any of the irregularity.
Rana has consistently been alleging "irregularities and favouritism in recruitment of Assistant Professors (APs) and other faculty positions by Prof Yadav".
In a letter written to Chairman of Board of Governors (BOG) of the NIT, Prof. Chander Shekhar, Rana said, "For the past two years Prof. Yadav has recruited nearly 70 APs and other faculty members majority of them from state of UP and his own community without following norms and violating rules ."
" While majority of recruited faculty was from his own caste , relatives and close connections he also gave regular appointment of APs recruited on contract basis, besides committing many other irregularities and ranking of the NIT came down to 98th position in the country during his tenure ."
Rana has taken up this matter with Prime Minister Narender Modi and HRD Minister Ramesh Pokhryal, subsequently Hamirpur MP and Minister of State for Finance and Corporate Affairs Anurag Thakur had also met the HRD minister demanding probe into the allegations.
Prof. Awasthi has already made several administrative changes after assuming charge and appointed Prof. Umesh Gupta as new Registrar and Prof. Rajeevan Chandel as Dean of Studies.
Prof. Chander Shekhar said, "A committee appointed by the HRD ministry to probe allegations of irregularities in recruitment and other charges would be reaching here next week and start investigation."