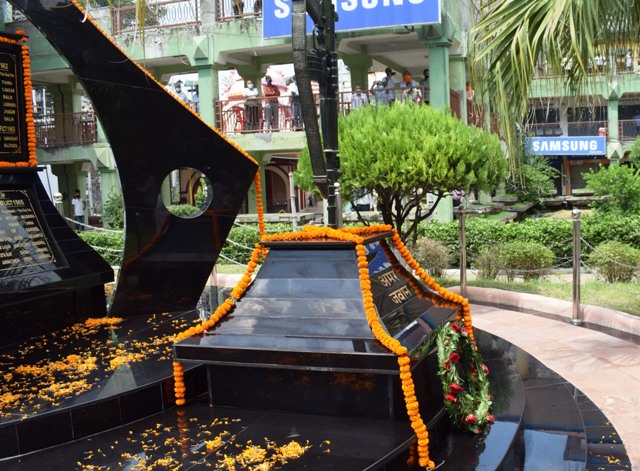 Chief Minister Jai Ram Thakur inaugurated shaheed smarak built at Sunken Garden Market Mandi through a video conference from Shimla dedicated to the Kargil martyr's and other soldiers who laid their lives in wars of 1962, 1965, 1971. The names of all the martyrs have also been inscribed on the memorial.
While paying tribute to the martyr's on the occasion of Kargil Vijay Diwas, Thakur said, "This day is dedicated to those martyr's who made supreme sacrifice of their lives to protect the borders of the country in a befitting reply to nefarious designs of Pakistan Army in Kargil to commemorate the victory July 26 is celebrated as Kargil Vijay Divas across the country".
He said, "History of Himachal Pradesh is full of stories of the valour and sacrifices of our soldiers; many from the state had participated in Operation Vijay and fifty two of these had laid their lives during the Operation."
CM said, "As many as 1096 brave sons of the state have received gallantry awards, 1246 of these have made supreme sacrifice to protect our mother land, prominent among these include Major Som Nath Sharma, who received first highest military honour – Paramveer Chakra in Independent India."
"In the Kargil war, Himachal Pradesh's martyr Captain Vikram Batra and Riflemen Sanjay Kumar received Paramveer Chakra posthumously," he added.
Thakur said , " In addition to financial assistance of Rs five lakh to the families of fifty two martyred soldiers in Kargil war one family member of forty four martyrs have been given government jobs, besides giving financial assistance and employment to those who had become disabled."
The Chief Minister also administered an oath to people present on this occasion through video conferencing to preserve and protect the glorious history of the country.
Military Welfare and Water Power Minister Mahendra Singh Thakur, Mandi MP Ram Swaroop Sharma, Shimla MP and state BJP president Suresh Kashyap and a large number of ex-servicemen also paid their tributes to martyr's on this occasion.