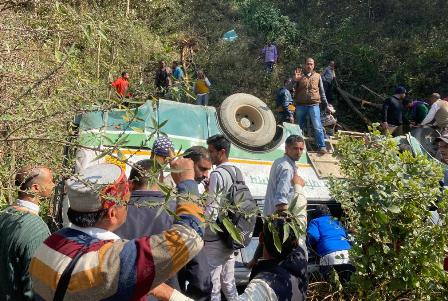 One passengers lost life and fourteen others injured on Thursday at about 1 pm after a HRTC bus no HP28A7228 plying on Mandi –Sarkaghat road veered off the road near Gahar.
A police source said , " Leela Devi of Dhalwan died on the spot in this accident and injured include Anil Kumar & Bimal Kumar of (Longni ), Anjal & Naina (Sainti) , Simro & Kamlesh ( Nabahi), Dina Ram (Gheed), Bansi Lal ( upper Dhalwan), Sita Ram (Janeehan) , Ashwani Kumari ( Bamtala), Roop Singh ( Bhadroi), , Tara Devi ( Randhara), Inder Singh of village (Sirki Dhar) and Sambha Kumar ( driver of the bus).
All injured are being treated in nearby hospitals and the administration has given Rs 5000 each to those injured.