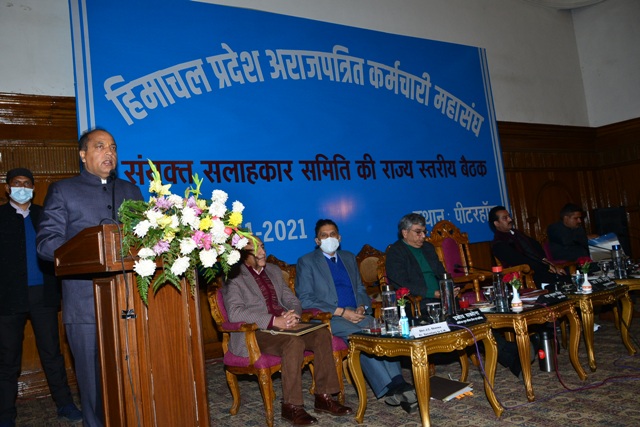 In the effort to woo state government employees Chief Minister Jai Ram Thakur has announced to give new pay scales to them from January 1, 2016 payable from January 2022.
Making several announcements in Joint Coordination Committee (JCC) meeting of the state non –gazetted Employees Federation held after six years in Shimla on Saturday CM said , " All pensioners would also get revised pension from January 1, 2022 as per revised pay scales including enhanced Dearness Allowance and state government would incur Rs 6000 crores annually to give these benefits ."
Thakur also announced implementation of New Pension System (NPS) from May 15, 2003 as per the Central government's notification for the state government employees and said the employees would have freedom to choose pension funds for their pension.
He said, "Employees enrolled under the NPS are being provided death-cum-retirement gratuity benefits and the government has decided to include employees for giving the gratuity who were not paid this between May 15, 2003 to September 22, 2017."
Thakur said, " The state government employees have been playing a major role in the development of the state and it is due to their hard work and dedication the state has emerged as a role model in the country."
He said, "The state Government is spending nearly 43 per cent of its total budget on employees and pensioners which would go up by to fifty percent after implementation of 6th pay commission."
President State NGO Federation Ashwani Thakur and General Secretary Rajesh Sharma praised the CM for taking care of welfare of the state government employees and thanked him for the announcements.
E .
Chief Secretary Ram Subhag Singh, Additional Chief Secretaries Sanjay Gupta, R.D. Dhiman, J.C. Sharma, Principal Secretaries Onkar Sharma, Rajneesh and Subhashish Panda, Secretaries Devesh Kumar, Amitabh Avasthi, Dr. Ajay Sharma, Akshay Sood and other officers attended the meeting.
Earlier, ACS Finance Prabodh Saxena welcomed the CM and others attending the meeting .