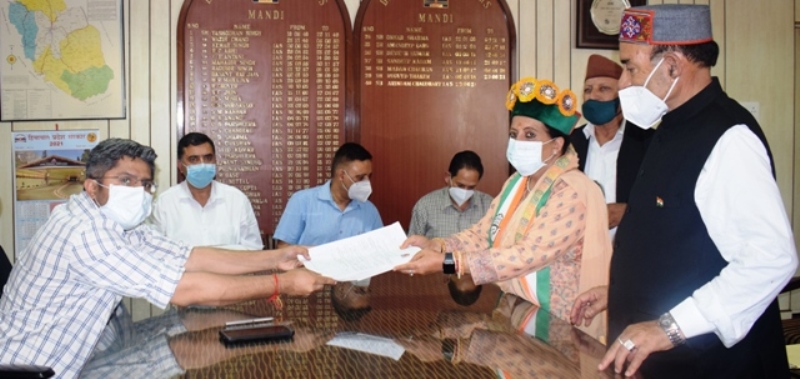 Congress candidate Pratibha Singh filed her nomination papers from Mandi parliament seat on Friday. Accompanied by several senior party leaders she presented her papers to the Returning officer.
Pratibha Singh, wife of former six times Chief Minister Virbhadra Singh had represented Mandi constituency in the parliament twice in 2004 and 2014, would be fighting this election in the absence of Virbhadra Singh after his death.
The Congress leaders later addressed a public meeting at Seri Manch where State Congress president Kuldeep Singh Rathor, co-in charge of Congress in Himachal Sanjay Dutt, Leader of opposition in the Vidhan Sabha Mukesh Agnihotri, former minister Kaul Singh Thakur, Pratibha Singh, MLAs Vikramaditya Singh, Kulu MLA Sunder Thakur, several other leaders and MLAs addressed the gathering. Sujanpur MLA Rajender Rana, former minister Asha Kumari, Badsar MLA ID Lakhanpal, besides others were present in the meeting.
While Congress attacked the Central government for its failure to control inflation especially prices of edible oils, LPG refill, Petrol and Diesel, they also criticized the Prime Minister Narender Modi for not withdrawing farm laws and not taking action against MoS for Home Ajay Mishra and his son Ashish Mishra who allegedly mowed down four agitating farmers against farm laws at Lakhimpur Kheri under a jeep.
While the Congress leaders also attacked the state government and Chief Minister for allegedly failing in carrying out development works in the state Pratibha Singh sought votes in the name of good work done by Virbahdra Singh in the state during his political career of sixty years.