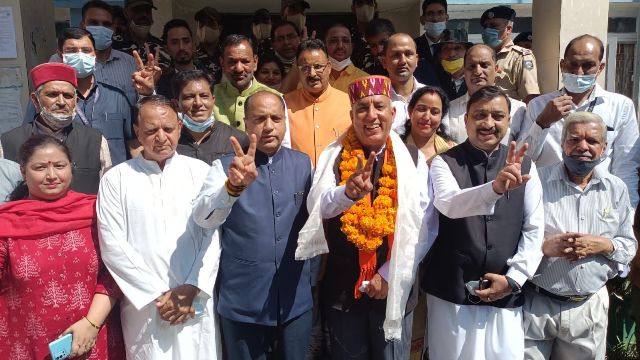 The BJP candidate for Mandi parliament by-election Brig. Kushal Thakur (Retired) filed nomination papers on Thursday before the Returning Officer of the Constituency at Mandi.
His name was cleared in last minutes by the BJP parliamentary committee along with names of three candidates for the Assembly constituencies where by-elections are being held.
The BJP has fielded Neelam Saraik from Jubbal – Kothkhai, Baldev Thakur from Fateh Pur and Ratan Chand Pal from Arki constituency.
Kushal Thakur after filing nomination papers accompanied by Chief Minister Jai Ram Thakur and other leaders assembled at Seri Manch where they addressed a public meeting.
Speaking on the occasion he said, "I have served the Indian Army for thirty five years and defended the borders of the country and assure the people I would keep serving the voters of Mandi parliamentary constituency like a soldier."
He assured, "I would make every effort to raise the issues of the masses in the parliament with the best of my capabilities."
Addressing the gathering Chief Minister Jai Ram Thakur, "We have been thrown a new challenge in the form of the by-elections in the state. We would successfully pass this test too like earlier tests."
Narrating several development works undertaken during his tenure the CM said, "We have made tremendous progress in every field despite the COVID pandemic in the state and crores have been spent in 17 Assembly segments of Mandi parliamentary constituency."
He said, "It is a matter of pride for people of Mandi to get Chief Ministership for the first time during the 70 years of the history of the state and I hope people would make every effort to defend this honour by ensuring a thumping majority for the BJP candidate."
Several ministers and other leaders, besides state BJP president Suresh Kashyap addressed the gathering.