The people of tribal districts of Himachal Pradesh have started showing their anger over construction of hydro projects in the tribal areas of Kinnaur, Lahaul – Spiti and Pangi.
Kinnaur and Lahual – Spiti districts have witnessed massive landslides in which many lives were lost during current monsoon rains. In Kinnaur district dozens of people had died in two separate incidents at Batseri and near Bhaba Nagar. Similarly, human loss was reported at Koksar and other places in Lahaul – Spiti district. Flash floods were also reported from the Pangi area.
Surprisingly, these areas were called cold deserts for scanty rainfall but many of these areas witnessed rains leading to disturbance in fragile mountains of this part of the Himalayan.
 While climate change is seen as one of the main reasons for ecological changes, environmentalists and geologists also blame reckless cutting of hills and blasting for raising hydro power projects in these areas as triggers for the landslides.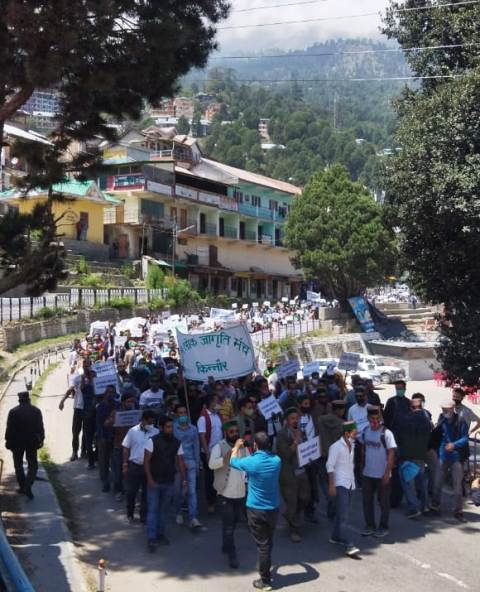 Him Lok Jagriti Manch (HLJM), which has been opposing hydro projects in Kinnaur held a big rally at Reckong Peo the district headquarter of Kinnaur on Thursday . A large number of people from different parts of the district marched raising slogans demanding complete moratorium on hydro projects to save Kinnaur.
Convener of the rally Jia Lal Negi said, "We have launched Kinnaur Bachao campaign against new hydro projects in the district with a slogan No- Means- No, as power projects have disturbed ecology and fragile geology of the area which was visible from massive landslides."
He said, "We have submitted a memorandum to HP Chief Minister Jai Ram Thakur demanding complete moratorium on future hydro power projects, shelve all proposed hydro power projects including 800 megawatts Jangi – Thopan project, implementation of Forest Rights ACT – 2008 and stop violation of tribal status of Kinnaur by allowing purchase of land to outsiders."
Guman Singh Thakur of Himalaya Niti Abhiyan addressing the rally said, "The state government is allowing construction of hydro power projects at the cost of fragile ecology of the area to benefit the private companies; many projects built by private companies have been sold for their profits and we would oppose such projects."
People opposing hydro power projects in Lahaul – Spiti have also formed a Samyukta Sangharsh Samiti to oppose hydro projects in the district and have also submitted a memorandum to state government demanding moratorium on hydro power projects in the district.
Convener of the samiti Sudarshan Jaspa said, "We have extended our solidarity with people of Kinnaur and people from Pangi have extended their support for this cause. "
He said, "We have decided to hold a 'Chetawani rally 'in September or October to raise our voice and have asked the government to tap other sources of energy like solar power as the hydro project would cause immense damage in this fragile region."