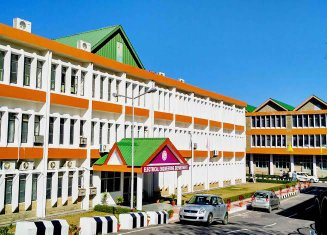 The Union Ministry of Education has terminated the services of former Director of National Institute of Technology (NIT) Hamirpur Prof. Vinod Yadav acting on the findings of an inquiry committee constituted to probe various irregularities committed by him during his tenure as the Director of NIT Hamirpur.
The Ministry of Education had constituted an inquiry against Prof. Yadav in July 2020 to probe alleged irregularities and charges of "nepotism and favoritism" against him.
As per an order issued by Department of Higher Education issued on  October 9, 2020 , "Where as a committee was constituted to inquire into the state of affairs of the NIT Hamirpur and to hold inquiries in various complaints received against the functioning of the institute. The report of the committee found a prime-facie case against the Director of the institute, which has been accepted by the competent authority."
The services of Prof Yadav have been terminated by the government after getting assent from the President of India the appointing authority of the NIT Hamirpur.
It is for the first time services of the Director of NIT Hamirpur have been terminated by the Central government. Though the Central Bureau of Investigation (CB)) had conducted a raid in the NIT Hamirpur to probe alleged irregularities against then Director of the institute Prof. IK Bhatt  in 2012 but he couldn't be nailed.
The ministry had taken the complaints against the former director very seriously and had stripped him from the post and given additional charge to Director of NIT Jallandhar Prof. Lalit Awasthi, besides entrusting the job of probing the allegations to AICTE chairman Dr Anil Sahsbudhe.
The probe in the allegations against Prof. Yadav was initiated by the ministry after the allegations were highlighted by a section of employees and Sujanpur Congress MLA Rajender Rana.
Rajender Rana had consistently  been alleging "irregularities and favouritism in recruitment of Assistant Professors (APs) and other faculty positions during the tenure of former director and taken up this matter with Prime Minister Narender  Modi, Education Minister and  Chairman of Board of Governors of NIT.
Hamirpur MP and Minister of state for Finance and Corporate Affairs Anurag Thakur had also met Education Minister Ramesh Pokhryal demanding inquiry in the charges.
In a letter written to Chairman of Board of Governors (BOG) of the NIT, Prof. Chander Shekhar, Rana  had alleged , "For the past two years Prof. Yadav had recruited nearly 70 APs and other faculty members majority of them from state of UP and his own community without following norms and violating rules ."
" While majority of recruited faculty was from his own caste , relatives and close connections he also gave regular appointment of APs recruited on contract basis, besides committing many other irregularities and ranking  of the NIT came  down to 98th position in the country during his tenure, " Rana had complained.
Rana said, "  Termination of Prof. Yadav has vindicated his allegations. " 
.