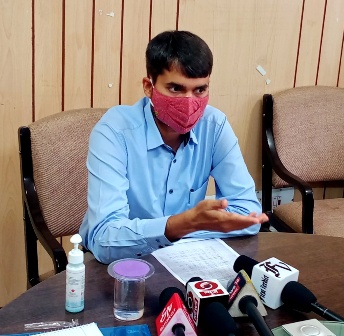 The Mandi district administration has launched Mandi Jansuvidha Portal for online disposal of revenue work in the district.
Interacting with media persons Deputy Commissioner Mandi Rugved Thakur said, "The district administration has taken a new initiative by making use of technology to provide online service to people for revenue related works."
Thakur said, "Mandi district has become the first district in the state to take this initiative through which online information regarding land registration, mutation and demarcation would be given to people by revenue officials through SMS and appealed people to take advantage of this service."
He said the portal for revenue related works has been functioning since June 2020 and five thousand three hundred seventeen people have already registered.
The applicants would have to provide revenue papers of the land with the request as the prevailing practice after which the application would be automatically referred to concerned tehsildar, naib tehsildar and kunungo etc.
The administration has also fixed a specific time schedule for disposal of requests as mutation requests would be disposed of in one month and demarcation requests within three months. People making requests for land registration would be given time for the registration, besides keeping them informed.
The DC said , " As the data would be available online it would be easy to monitor the cases and speed up settlement as this module would help in tracking cases, monitoring progress as the process has become simple and transparent ; the request of spot demarcation can be made on www.mandijansuvidha.in/ demarcation of spot and boundaries" .
The application will be automatically sent online to the concerned tehsildar-naib tehsildar etc and applicants would be kept informed about progress and schedule timing of spot inspection through SMS.