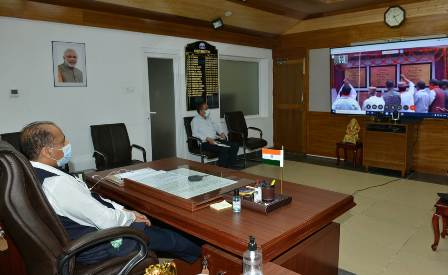 Chief Minister Jai Ram Thakur inaugurated and laid foundation stones of developmental projects worth Rs 26.50 crore in Seraj Vidhan Sabha area of Mandi district on Wednesday through a video conference from Shimla, after he was unable to personally visit the area due to inclement weather.
Thakur inaugurated building of Government Senior Secondary School; Balichowki constructed at a cost of Rs. 1.78 crore and laid foundation stone of mini secretariat at Bali Chowki to be constructed at a cost of Rs. 17.20 crore . He also laid foundation stone of 45 meter span pre-stressed double lane bridge over Thirthan khad at Balichowki to be built with an outlay of Rs. 4.69 crore.
CM laid foundation stones of Forest Rest Houses at Nauna and Panjain to be constructed by spending Rs 1.50 crore and Rs 1.27 crore, respectively.
Addressing on this occasion CM said "August 5 would go down in the annals of history as historic day as Prime Minister Narendra Modi performed Bhumi Pujan in Sri Ram Temple at Ayodhaya and people of the country are fortunate having witnessed this historic moment".
CM said, "The Bridge over Thirthan khad at Balichowki would provide better connectivity to people of Seraj and Banjar Assembly constituencies, besides forest rest houses would help in promoting tourism in the area."
Chief Minister said," Several offices have been opened at Balichowki and eleven government schools have been upgraded during this tenure of the government, besides spending Rs 150 crores on roads and bridges ."