The researchers at Indian Institute of Technology (IIT) Mandi have developed two low-cost portable ventilators, which can be carried easily to remote places in case of medical emergency and would be very useful in the wake of COVID-19 when use of ventilators is essential to save lives of infected patients.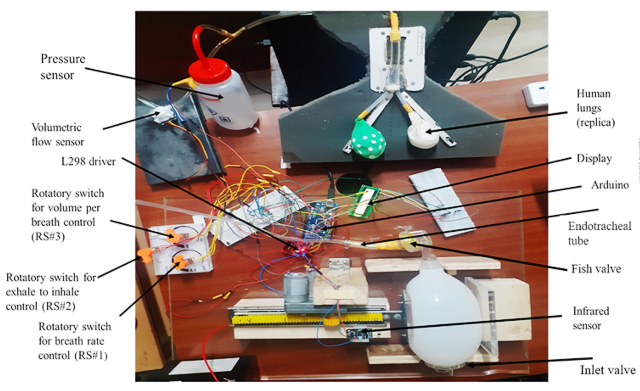 The first smart ventilator has been developed by Dr. Apran Gupta, Associate Professor, School of Engineering, IIT Mandi, along with research scholars, Lokendra Singh and Sourabh Dogra, costing Rs 4000 only.
The prototype is a mechanised Artificial Manual Breathing Unit (AMBU) bag with options to control breath rate and volume of air passing through lungs.
The machine can be operated manually or controlled by a mobile application through Wi-Fi link. It can be started and stopped with a smart phone, besides changing breathing rate per minute (BPM). A simple slider-crank mechanism has been used in this to pump air and is also easy to manufacture, assemble and operate.
Telling about features of this ventilator, Dr. Apran Gupta said, "Designed especially in the wake of COVID-19 pandemic this low-cost ventilator can be operated manually by using a Smartphone with Wi-Fi link and can be operated in remote places".
There is also an emergency button on the ventilator and the mobile application that stops the ventilator and sets alarms in case of any hitch. The ventilator can be directly operated with AC supply or an external battery and very helpful for patients needing respiration support.
The researchers have also consulted medical experts Dr. Chander Singh, Medical Officer, IIT Mandi, Dr. Manjul Sharma and Dr. Jasdeep from Jagriti Hospital, Mandi.
Another ventilator prototype has been developed by Dr. Rajeev Kumar, Associate Professor, School of Engineering and his team which operates with low-cost self-inflating bag operated by an electric motor costing about Rs. 25,000.
The research team has used the motor used in electric ventilators along with the Artificial Manual Breathing Unit (AMBU) bag to provide respiration support.
In this ventilator, a single rack and pinion mechanism has been used in which the self-inflatable bag is compressed from one side that would blow the oxygen into the patient's lungs either through invasive or non-invasive mode. The developed ventilator has an interface between a patient and operator.
Speaking about this prototype Dr. Rajeev Kumar told, "In the time of COVID-19 pandemic, this low-cost ventilator will be very useful in rural areas, which is portable, has ABPM control mechanism, tidal volume, facility to monitor exhale- inhale time ratio and display setting for alarm and high airway pressure."