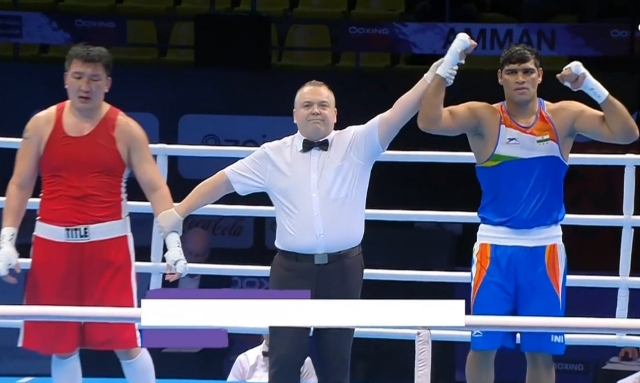 Ashish Kumar Chaudhary, a boxer from Sunder Nagar of Mandi district, has secured a ticket to Tokyo Olympics – 2020. He assured his position in the Indian boxing squad participating in the next Olympics games by winning his boxing qualifier's round.
Ashish Kumar won his bout at Amman, the capital of Jordan, by defeating Maikhal Roberrd Muskita of Indonesia in the middle weight category (75 kilograms) on Monday night.
He has become the first boxer from Himachal Pradesh to represent the state in the Olympics games. Seven other Indian boxers have also qualified for the Tokyo Olympics.
Speaking after his win, Ashish Kumar said, "I dedicate this win to my father, who departed a month back on this day; my father always inspired and supported me and after hard work of 16 years I have been able to get a ticket for the Tokyo Olympics; like every player going to the Olympic games my ambition also is to win a medal for my country."
He hails from the family of sportsmen as his father and uncles have been wrestlers and one of his uncles Johny Chaudhary is a famous wrestler of this region.
Ashish Kumar, employed as Tehsil Welfare Officer at Dharampur started playing boxing while studying in MLSM College Sunder Nagar and is a national champion at present.
Tragedy had perturbed him last month when he lost his father but proving his commitment to the game he resumed his training at Bengaluru after some time and has proved his worth in the qualifier rounds.
His mother Durga Devi, his coach Naresh Sen, relatives and people of Mandi district and Himachal Pradesh have lauded his achievement and hoped he would bring a medal for the country in the Tokyo Olympics.
Chief Minister Jai Ram Thakur has also congratulated Ashish Kumar for getting a ticket to Tokyo Olympics and hoped he would bring laurels for the state by winning a medal for India in the Tokyo Olympics games