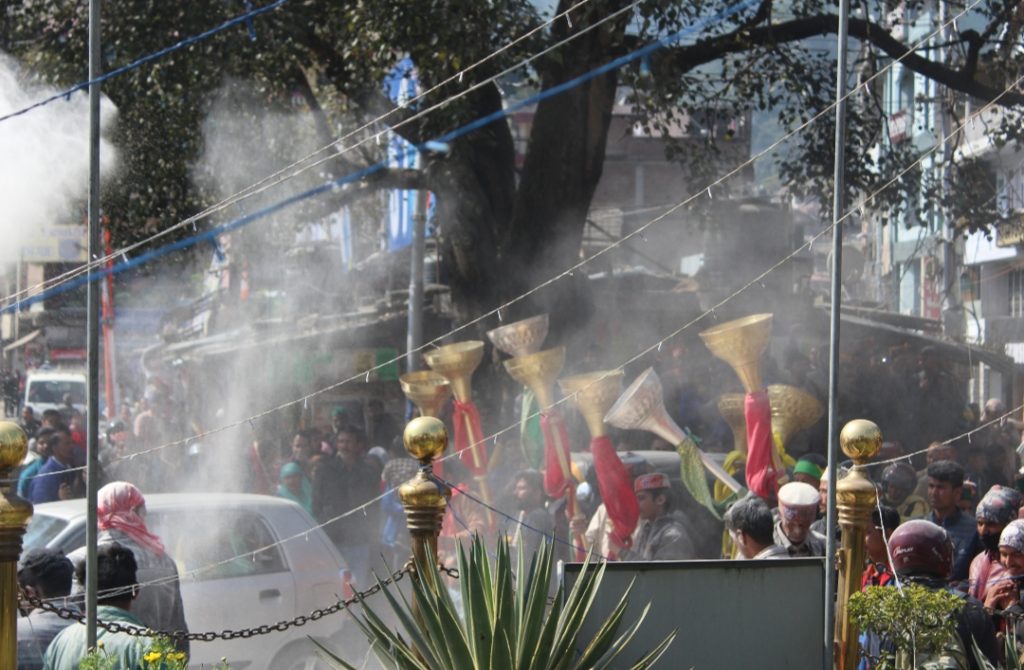 The international shivratri festival came to end on Friday after weeklong festivities; Himachal Pradesh Governor Bandaru Dattatreya was the chief guest of the closing ceremony.
A jaleb was also taken out on the last day of the festival in which Governor of the state, hundreds of dignitaries wearing colourful turbans, a large number of deities carried on shoulders by devotees and marching contingent of police and its band, participated.
Earlier, in the morning on the last day of the festival hundreds of the deities staying here along with their kardars and devotees came to Chauhta bazaar, the hub of Mandi town, to enable people to pay obeisance.
As hundreds of deities reached Chauhta bazaar, thousand of local residents and people from the surrounding areas thronged to seek their blessings before their departure for their respective places. . It was a spectacular scene to watch thousands of people seeking blessings from deities.
Adi – Brahma, the god considered protector of Mandi town also drew a line (called kar) around the town to ensure safety and prosperity. Hundreds of devotees of Adi – Brahma participated in drawing the kar.
Addressing the gathering on this occasion Himachal Governor Bandaru Dattatreya said "The state has a very rich culture and peculiar deity tradition and it's a great experience to participate in the jaleb and watch people's immense faith in the deity culture".
He also praised the district administration for preserving the unique culture and tradition of the shivratri festival, besides making good arrangement for stay, food and providing other facilities for the deities.
In his appeal to eradicate drugs in the state, the Governor said, "Everybody must come forward in saving youth from falling in the trap of drugs as this is one of the biggest challenges today."
The Governor also congratulated the festival committee for organizing a cat walk for parents and children to promote Beti Bachao Beti Padhao campaign during the shivratri festival. He also gave prizes to the winners of different competitions.