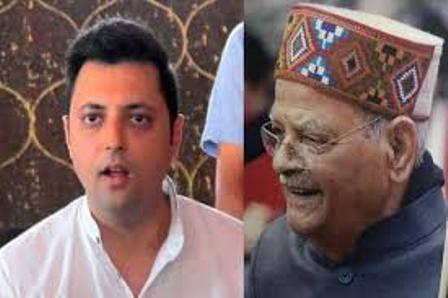 Former Union Communication Minister Sukh Ram is lobbying hard to install his grandson Ashrey Sharma as the state president of Himachal Pradesh Youth Congress.
Sukh Ram, who had managed Congress ticket for Ashrey Sharma to contest Mandi parliament seat on the eleventh hour before the parliament election in May 2019 when he dodged BJP and had joined Congress on denial of BJP ticket to Ashrey for contesting Mandi parliament seat.
After defeat of Ashrey in the parliament election at the hands of BJP candidate Ram Swaroop Sharma with huge margin, Sukh Ram has been trying to adjust him in the Congress organization.
A veteran Congressman Sukh Ram, who had held important positions in the Central and State governments headed by Congress, has been changing parties after 1998 when he had launched his own political party after his expulsion from Congress.
He had played very important role to keep Virbhadra Singh out of state government in 1998 by joining hands with the BJP in the hung Assembly to install BJP – HVC alliance government. But in the next election in 2003 he returned to Congress.
However, before the Assembly election 2018 he had deserted the Congress to join BJP along with his son Anil Sharma, a cabinet minister in Virbhadra Singh government.
Sukh Ram is quite keen to politically establish his grandson as his son Anil Sharma had been facing rough weather in BJP following his resignation as a cabinet minister from Jai Ram Thakur led BJP government after the parliament election. More so, since Sukh Ram is grooming Ashrey Sharma as his political heir and has been lobbying hard with Congress leaders in New Delhi to get him an organizational post.
A source in the Congress said, "Present state Youth Congress president Manjeet Thakur has reportedly crossed upper age limit prescribed for the Youth Congress, moreover he and NSUI state president hail from Rohru and he is likely to be replaced for maintaining regional balance and pump in new blood in the organization."
Himachal Pradesh state Congress president Kuleep Rathore refused to comment on this development saying, "Appointing president of the state Youth Congress is a prerogative of central party leaders and I can not comment on this issue."