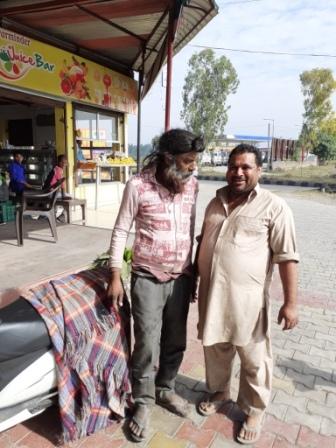 This is picture of a vagabond, who I met during a bus stopover near Kiratpur, while coming from Chandigarh.
As the bus stopped for lunch break I went to a fruit seller to buy bananas. He came to me and asked for money to buy a banana. I initially thought he must be asking money to buy drinks which I don't promote at all. I asked him in a lighter vein why he wanted to eat banana to which he repiled – You know better.

Then he asked me to buy him some peanuts and a cup of tea.
Out of curiosity, I asked about him. He told his name is Kulvinder Singh Sandhu and had landed property at Rajpura. I thought him to be mentally disturbed but he did'nt look like as he talked normally.
Then he told me he had some problem at home, which I could not understand completely but he said he wants to shoot his wife.
Later, he had ordered for tea and insisted me to have tea. As I was having a kinnoo I refused his offer. He bowed down to touch my knees saying "Eh to mera veer hai" and requested me to click his picture and publicize it, I clicked his picture in my mobile and showed him. He was very happy.
After leaving the place I kept thinking about him and lakhs of others like him who can be cured through psychological and medical treatment but our society and governments give little attention to this problem.