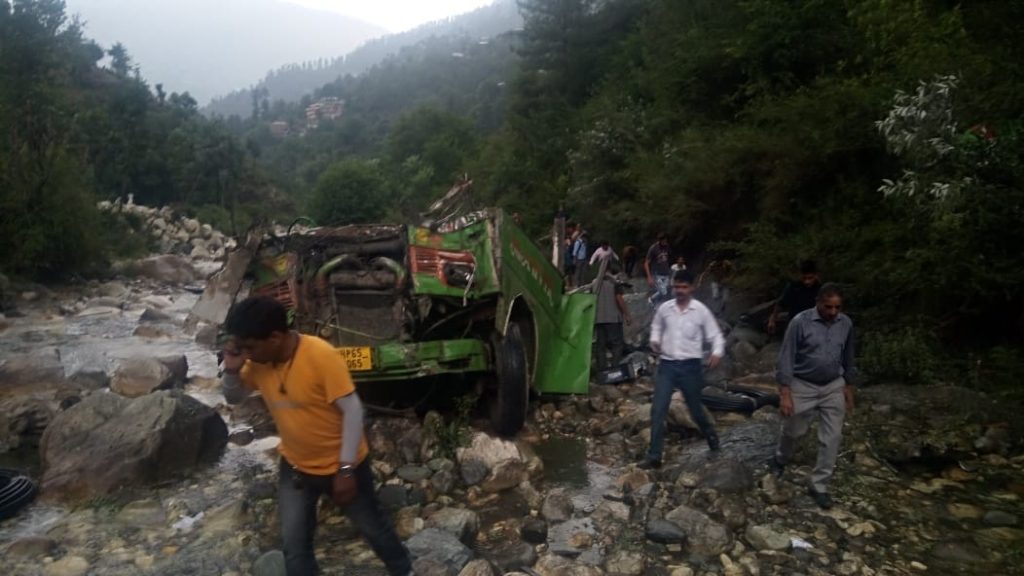 At least forty two passengers, traveling in a private bus have died and twenty six others injured in a bus accident on Thursday evening near Banjar in Kullu district of Himachal Pradesh, when a bus in which they were travelling, rolled down a hill about 500 feet and fell into river bed.
The Sub – Divisional Magistrate (SDM) Banjar MR Bhardwaj talking on phone from the place of accident have confirmed forty two deaths in the accident.
The accident occurred at 3.45 pm, when driver of an overloaded bus no HP -65-7065 belonging to Mahaveer bus service, lost control and it veered on the hill side.
The ill fated bus had started its journey from Banjar to Gada –Gushaini and met an accident at Deoth curve. The head count of deceased in the accident can increase as many injured are reportedly in a serious condition .
The rescue operation was started by local administration with the help of local residents. All dead bodies and injured have been pulled out from the bus and injured have been rushed to government hospitals Kullu.
Two rescue teams were doing rescue and relief work under the supervision of SDM Banjar.
SDM Banjar said, "The administration has given Rs 50000 each as an immediate relief to families of the deceased and disbursed Rs 1.75 lakh among the injured as per government manual."
Himachal Pradesh Chief Minister Jai Ram Thakur and Governor Acharya Devvrat have expressed deep shock over so many deaths in the accident and extended deep sympathies to the families of the deceased.
The state government has ordered a magisterial probe in the incident which would be conducted by SDM Banjar.