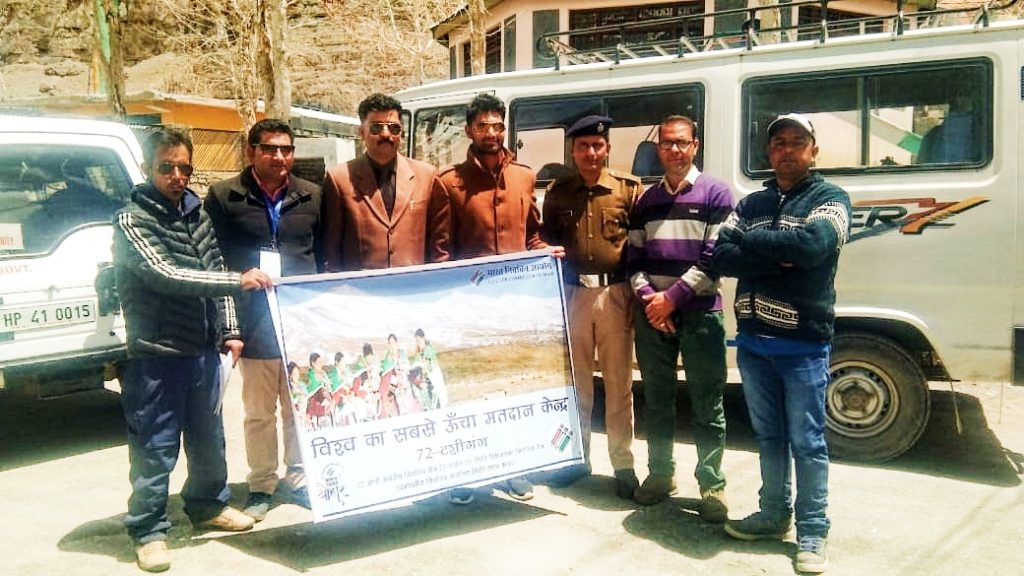 While administration has made all arrangements for polling in the second largest Mandi Parliamentary constituency of India but polling in three remote tribal Assembly segments ; Lahaul- Spiti , Kinnaur and Pangi – Bharmor is still a big challenge for the administration with some areas experiencing fresh snowfall and forecast of inclement weather on the polling day on May 19 in the last phase of parliament election in India .
Mandi constituency has may distinctions to its credit as area wise this parliamentary constituency is the second largest constituency of the country, with many high mountain passes like the Rohtang pass at 13050 ft. All 17 Assembly segments including three tribal Assembly segments fall in six out of total 12 districts of the state.
Nine Assembly segments of Mandi district, four Assembly segments of Kullu district, Rampur segment of Shimla district, Lahaul – Spiti, Kinnaur and Bharmor Assembly segment of Chamba district, are part of this constituency.
The constituency shares international border with China and interstate border with Jammu – Kashmir. The world's highest polling station Tashigang in Spiti is situated at the height of 15256 ft and is quite close to China boarder.
The second highest polling booth –Hikkim at 14,567 feet is situated in Spiti and EVMs and polling material in in-accessible areas was airlifted by the administration using helicopters of the Indian Air force. The smallest polling booth for 37 voters – Limber is also located in Spiti.
Hundreds of voters of Lahaul – Spiti have been transported through the Rohtang tunnel, which is still under completion from Manali and Kullu to enable them to vote in parliament election as main road link with the district is still blocked with huge mound of snow at the Rohtang pass.
The first voter of India, Shyam Saran Negi, who was first to vote for parliament election in 1951 in Independent India , would be casting his vote at Kalpa polling booth in Kinnaur Assembly segment of the constituency on Sunday and local administration has made special arrangement for taking him to the polling booth.
The election commission has setup 2083 polling booths for the polling in Mandi parliamentary constituency where 12, 67,988 electors would caste their votes .