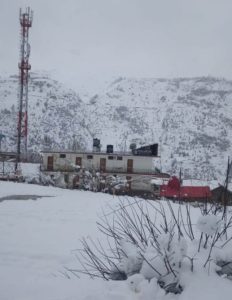 India's highest or perhaps the world's highest polling booth has been set up at Tashigang village in tribal district of Lahaul and Spiti in Himachal Pradesh at the height of 15256 feet, for the ensuing Parliament election.
This village is situated near India – China border and the Chinese territory from this place is about 10 kilometers, tells a resident of the village.
The Lahaul and Spiti district administration has setup a polling booth to enable residents of two villages – Tashigang and Gete to cast their votes in their village for the ensuing Indian Parliament election scheduled for the May 19, 2019.
Before setting up of the polling booth at Tashigang, Hikkim polling booth set up at the height of 14,567 used to be the highest polling booth. Hikkim village had many firsts to its credit as it was first highest village in India to have road connectivity and a telephone exchange, decades back.
As many as 49 registered voters – 29 males and 20 females from the two villages would cast their votes at the Tashigang polling booth. The residents of this village had to travel about 12 kilometers to cast their votes in all previous elections.
Setting up of a polling booth in Tashigang would be a challenging task for election department and district administration to conduct the polling as this place remains covered with snow round the year except for few months, even now a days it is covered under a thick blanket of about 4 feet snow. Taking Electronic Voting Machines (EVM) and election material to the polling booth would be a difficult task for the staff deputed on the polling duty.
This village is situated at a distance of about 35 kilometers from headquarter of Spiti at Kaza and road link at present is closed due to heavy snow on the road.
District Electoral Officer and Deputy Commissioner Lahaul and Spiti Dr. Ashwani Chaudhary said, "The administration has setup a polling booth at Tashigang which is highest after Hikkim polling booth to facilitate voters of Tashigang and Gete villages as they had to travel about 12 kilometers to cast their votes". We would make all arrangement for polling on May 19 when the Parliament election would be held in Himachal Pradesh, he added.
The district administration has also informed the Election Commission of India about setting up of this polling booth.