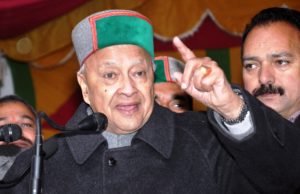 Six time former Chief Minister and tallest leader of the Congress party in Himachal Pradesh, Virbhadra Singh may contest 2019 Parliament election from Mandi.
Giving an indication, former Chief Minister Virbhadra Singh, who had refused to contest next parliament election from the Mandi Parliament seat in the past, has said "I might consider contesting the election if asked by the Congress High Command".
Former Chief Minister Virbhadra Singh, who has been critical of top leadership of the Congress party in the state and demanding change of Himachal Pradesh Congress Committee (HPCC) president Sukhvinder Singh, said, "I am not interested to contest the election but might consider it if the Congress High Command wants me to do so."
There had been speculation in the Congress circles about the candidate to contest the next Parliament election from Mandi seat, which was won by the BJP candidate Ram Swaroop Sharma by defeating Partibha Singh, wife of then Chief Minister Virbhadra Singh in 2014 election by a convincing margin of over 39000 votes.
After this defeat, Pratibha Singh has not shown interest to contest the Parliament election from Mandi and many Congress leaders from the constituency had become active to get the Congress ticket in the next Parliament election.
Virbhadra Singh is considered most formidable candidate to contest from Mandi but he has been refusing to contest the election. The veteran Congress leader with huge mass base in the state had served as the Member of Parliament from here for many terms and in 2009 had become union cabinet minister after winning from Mandi. He was the only Congress candidate to win 2009 Parliament election from Himachal Pradesh.
His wife Pratibha Singh had been MP from Mandi for two terms. The Mandi Parliament constituency is considered a pocket borough of Virbhadra Singh and he had been getting chunk of votes from his erstwhile estate Rampur Bushehar and tribal districts, besides getting majority support from the electorate of the Mandi constituency.
Virbhadra Singh is still the strongest candidates on whom the Congress party can bank to win the seat in the home district of Chief Minister Jai Ram Thakur.
Many here feel, in case of win from Mandi seat, Virbhadra Singh would prove his significance in the Congress party once again and would prove his point to replace the HPCC president Sukhvinder Singh 'Sukhu', whose ouster he has been demanding for long and had even refused to join the Congress campaign in the state.