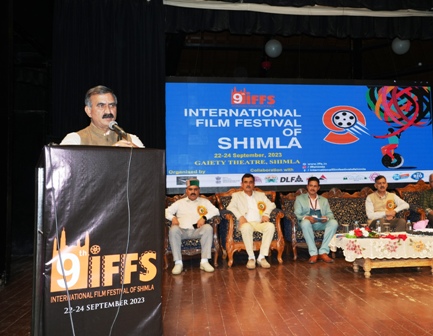 The three days, 9th International Film Festival of Shimla was inaugurated by Chief Minister Sukhvinder Singh Sukhu on Friday at Gaiety Theatre.
Filmmakers from 20 countries and 22 States of India are participating in the festival, including the United States, Belgium, Iran, Canada, China, Czech Republic, Turkey, Nepal, Egypt, Bangladesh, Italy, Poland, Argentina, Sweden, Afghanistan, Australia, France and Dubai.
Addressing the gathering on the occasion, the CM said , " The gathering here this evening is a mix of cultures, perspectives, a blend of voices from 20 countries and different states of India, highlighting the crucial role of films in reflecting the essence of society".
He said, "I never miss any opportunity watching a film whenever I find time from a hectic schedule, as movies offer a much needed escape from the daily routine of life, besides being a source of entertainment."
Emphasizing the role of cinema, the CM said, "It serves as a mirror reflecting diversity of cultures and social issues; the state government is trying to encourage filmmakers to make films in pahari language too," he added.
He said, "The International Film Festival of Shimla stands as a significant event for our state, forging a stronger bond between Himachal Pradesh and the global film community through cinema; and we are eager to extend our culture and narratives to the entire world through this medium."
Festival Director Pushap Raj said , " As many as 38 films under international category, 62 films in national category and five films in state category are being screened this year, a Persian short Film from Afghanistan was screened as the inaugural film of the festival."