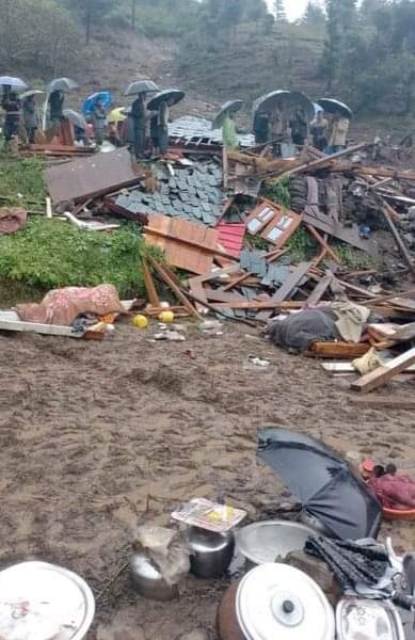 As many as three hundred twenty seven people have lost their lives in different parts of Himachal Pradesh from June 24 to August 16 as the state faced one of the worst natural calamities during the current monsoon season as per date released by disaster management cell of Revenue department of the state.
Thirty eight persons have still been reported missing and three hundred eighteen persons have been injured. Fifteen thousand nine hundred ninety eight cattle also died, besides huge loss to government and private property to the tune of Rs 7482.82 crores has been assessed.
Maximum 75 casualties have been reported from Shimla district , 48 from Kullu , 37 from Chamba, 33 from Mandi, , 23 from Kangra , 31 from Solan, 21 from Sirmaur and 17 from Una , 12 from Bilaspur, 15 from Hamirpur, 11 from Kinnaur and 4 from Lahaul and Spiti.
During the recent fury of rain beginning August 13 to 16 as per DMA report 91 persons have lost their lives in flash floods and accidental drowning in the state; in Shimla district 42 persons have died, 12 in Kullu , 11 in Mandi , 13 in Solan and 5 in Kinnaur .
In a devastating flash flood after a cloud burst thirteen residents of Shiv Baori area of Summer Hill in Shimla were buried under the debris as several residential buildings were washed away on Monday." Thirteen bodies have been recovered so far while 8 persons are still missing", said Virender Thakur, Municipal Councilor of Summer Hill ward.
Normal life has also been disrupted as several national highways, link roads and bridges collapsed, water and electricity supply, mobile and landline network in many parts of the state has been adversely affected and has still not been restored.
Himachal Chief Minister Sukhvinder Singh Sukhu has been personally supervising the relief and rescue operations and meeting affected people in different parts of the state.
The CM said, " At least sixty persons have lost lives during the current spell of the rain and loss of several thousand crore has been assessed initially ; he has directed administration to give relief to affected people at the earliest and assured that everything possible will be done to help the affected families ."