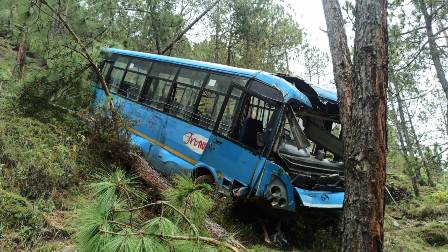 Thirty five passengers traveling in a Himachal Road Transport Corporation (HRTC) bus were injured on Thursday morning near Karsog in Mandi district..  
The HRTC bus no HP03-6211 was on its way from Karsog to Mahdi when the driver lost control over it at about 10.15 am near Deuri Dhar and it rolled down a hill hitting  a pine tree about 300 feet below in a gorge .  
Ten of the seriously injured including driver of the bus Virender Kumar were taken to Indira Gandhi Medical College Hospital Shimla for treatment after giving them first aid at Karsog hospital. The injured include the driver and conductor of the bus.
At least 37 passengers were travelling in the bus at the time of the accident. The local administration has given an ex-gratia aid of Rs 5000 each to the injured.
The state government has ordered a magisterial inquiry to look into the causes of the accident.