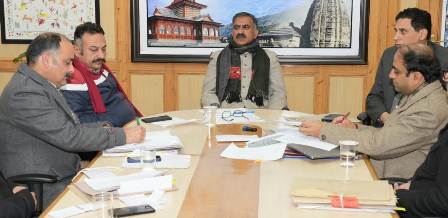 Himachal Pradesh government would open sixty eight model day boarding schools in every Assembly constituency of the state to provide quality education.
Chief Minister Sukhvinder Singh Sukhu presiding over the meeting of the senior officers of the education department on Friday at Shimla said, "As per the promise of the Congress party given during the Assembly election, the model schools would be equipped with modern cutting edge technology and every effort would be made to improve the standard of education."
He said, "The model schools would be named after former Prime Minister Rajiv Gandhi and would be constructed on land measuring over 100 kannals."
The CM also directed the officers to identify the land in every constituency for the schools keeping in mind the requirement and providing a good environment to students and open the schools in a time bound manner.
He said, "The state government is making every effort to combine sports and education in order to provide best opportunities to the students for their growth and education; an indoor stadium would be constructed in Jubbal Kotkhai Assembly constituency soon," he added.
The CM said, "To overcome shortage of teaching and non teaching staff in schools rationalization process would be started soon, besides initiating process to fill up vacant posts; he assured studies of the students in government schools would not be hampered as the state government is committed to look after their welfare and job orientation courses, especially through Technical University Hamirpur would be started for improving their skills to increase their employability in different sectors."
Education Minister Rohit Thakur, Chief Secretary Prabodh Saxena, Principal Secretary to Chief Minister Bharat Khera, Secretary Education Abhishek Jain, Director Higher Education Dr. Amarjeet Sharma and Director Elementary Education Ghanshyam Sharma were also present in the meeting.