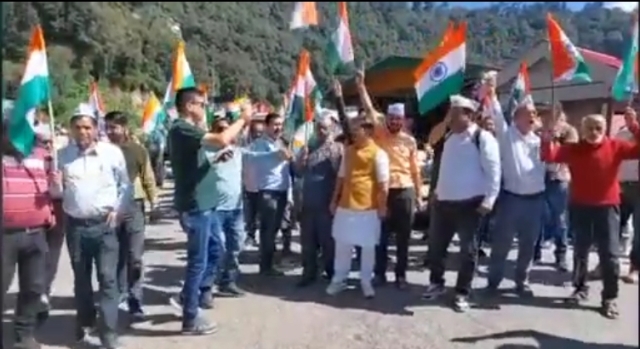 Protesting, New Pension System Employees' Sangh (NPSES) has decided to start a chain hunger strike at chaura maidan Shimla to demand restoration of the Old Pension Scheme (OPS), not being satisfied with Chief Minister Jai Ram Thakur's response to their demand.
Earlier, hundreds of the NPSES members reached Shimla to highlight their demands on Saturday during the monsoon session of Himachal Pradesh Vidhan Sabha and marched to chaura maidan. Their representatives were invited to hold talks with the CM.
The opposition Congress staged a walk out in Vidhan Sabha demanding suspension of today's business and holding discussion on the demand of restoration of OPS. Senior Congress MLA Asha Kumari raised the issue, not satisfied with the answer of Speaker Vipin Pramar the Congress MLAs walked out from the Vidhan Sabha.
The Chief Minister said, "The opposition MLAs have become frustrated after defeat of no-trust motion on the floor of the Assembly and now taking excuses stalling the business of the monsoon session to hog the limelight ."
Urban Development Minister Suresh Bhardwaj accused the Congress party for misleading the employees as it was during the Congress government in 2004 the OPS was replaced with NPS.
Convener of NPSES Pradeep Thakur said, "Chief Minister Thakur has been making excuses and now the Sangh has decided to continue a chain hunger strike to press their demand of restoration of OPS at chaura maidan Shimla."