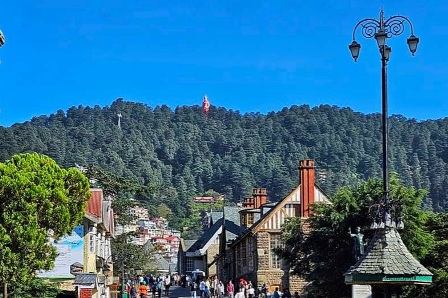 Himachal Pradesh government's proposal to allow construction in Green Belts of Shimla has invited ire of environmentalists and a section of residents of Shimla town.
The State Cabinet on October 11 had given nod to a proposal of the state government to amend Shimla Development Plan (SDP) for allowing construction in the Green Belts of Shimla around Jakhu Hill i.e from Navbahar to Shimla Church (near the Ridge) and Lakkar Bazaar to Sanjauli Chowk.
The decision has come at a time when state government agencies and residents are still trying to heal the wounds given by monsoon fury in the state in July and August. Many residential buildings had collapsed after incessant rain in different parts of Shimla causing huge loss of life and property.
As panic had gripped in the minds of people after the huge devastation, several questions were raised about the geology, constructions of buildings and carrying capacity of Shimla. Even the state government had announced several measures to check such devastation like banning cutting of hills and stopping haphazard construction to preserve the environment and ecology of Shimla.
But, to everyone's surprise the state government has decided to allow construction in the Green Belts of Shimla in utter disregard to environmentalists concern, more so since the implementation of a similar move by the previous BJP government through Shimla Development Plan has been put on hold by the Supreme Court of India.
Sanjay Chauhan former Mayor of Shimla Municipal Corporation said, "The decision of allowing construction in the Green Belts is contrary to concerns of environmentalists and in disregard to the Supreme Court directive."
He said, "There has to be a cumulative development plan for Shimla as recent devastation has posed new challenges to regulate constructions."
The state government is trying to justify the move by saying, "The state government would regulate the construction in the Green Belts through stringent norms and will submit the proposal to the Supreme Court of India."
However, Tiknder Singh Panwar former Deputy Mayor of Shimla and one of the petitioners in the Supreme Court challenging Shimla Development Plan says, "A development plan for Shimla has to be preceded by climate action plan based on geologist's report and by determining carrying capacity of the town."
Thousands of green Deodar trees have been cut for constructing buildings in the past in Shimla and a large number of these were cut during the past few months by declaring these unsafe for the habitat.