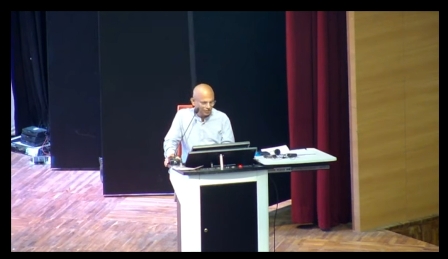 The Director of Indian Institute of Technology (IIT) Mandi Professor Lakshmidhar Behera has invited the ire of rational thinkers, scientists and environmentalists for his remarks "blaming meat eating habit of people of Himachal for landslides in the state", demanding his removal from the post.
The IIT Director has made controversial remarks while addressing students of the institute, video of which has gone viral on the social media
Secretary of Himachal Gyan Vigyan Society ( HGVS) Jia Nand Sharma in a press release said, " Remarks by the IIT Director are illogical and highly condemnable as majority people of the state are non-vegetarian; the institutes like IIT Mandi should take up scientific studies to find causes of natural disasters and not make misleading statements."
The HGVS has demanded "Removal of Professor Behera from the post of the Director as he is trying to tarnish the image of the prestigious institution "
All India People Science Network office bearer Joginder Walia has termed the remarks of the IIT Director as "rubbing salt on wounds of people of the state and highly condemnable; Walia has also demanded his removal from the post."
An environmentalist and alumni of IIT Roorki Rammurthi Shridhar has demanded an apology from Professor Behera for making such remarks.
Sridhar presently associated with Himalayan Niti Abhiyan in a statement said, "The statement made by Professor Behera linking natural disaster to meat eating habit of people of Himachal is highly deplorable and he should seek apology from people of the state."
He said," As the Director of a leading technology institution, to harp on the choice of food eating habits and linking it with natural disaster is insensitive and most unscientific."
Prof. Behera had also courted controversy a few years back when he claimed to ward off an evil spirit from the house of his colleague in Chennai.
Behera or the media team of IIT Mandi did not respond to calls from media persons to seek his version in this matter.