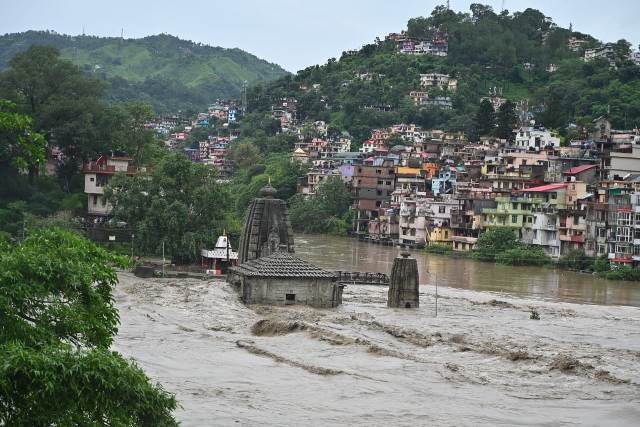 With incessant rain still continuing in Himachal Pradesh for the fourth consecutive day on Monday, all rivers are flowing over danger mark posing constant threat to many important bridges, houses located on the banks and several power projects.
Normal life throughout the state has been adversely affected as electricity, drinking water facility and internet services have been severely affected. While traffic on Chandigarh – Manali and Shimla remained affected, the HRTC and private bus operators have stopped plying buses on hundreds of local and long routes.
Though the entire state has been affected, the situation in Kullu, Mandi , Kinnaur , Shimla and Chamba districts was affected most since Satluj, Beas, Ravi rivers are in spate and flowing over danger marks at several places . Several bridges and portions of roads at many places. Milk, vegetables, fruits and newspaper supply was also disrupted at many places.
The situation in Mandi and Kullu towns is also very grim as several bridges and roads have been washed away.
DC Kullu Ashutosh has terminated Shrikhand Yatra which had begun on July 7.
Power generation in Larji power project, Nathpa Jhakri, Rampur power project and Karcham Wangtoo power projects have been suspended by the power projects authorities.
Drinking water supply in several areas of the state is affected as gushing water has entered sources supplying drinking water including Chaba from where drinking water supply is drawn for Shimla.
People living on high hills and in interiors of the state are facing many difficulties as several link roads and bridges have been washed away.
The state government has beefed up relief and rescue operations in the state and the Chief Minister is himself monitoring the situation.
The District Administration Mandi rescued six people stranded in the river near Nagwain last evening and evacuated 113 residents living on the banks of river Beas on Monday.
The administration has also warned rumour mongers from spreading rumours as no cracks have developed in Pandoh and Larji dams in Mandi district and asked police to arrest such people immediately.