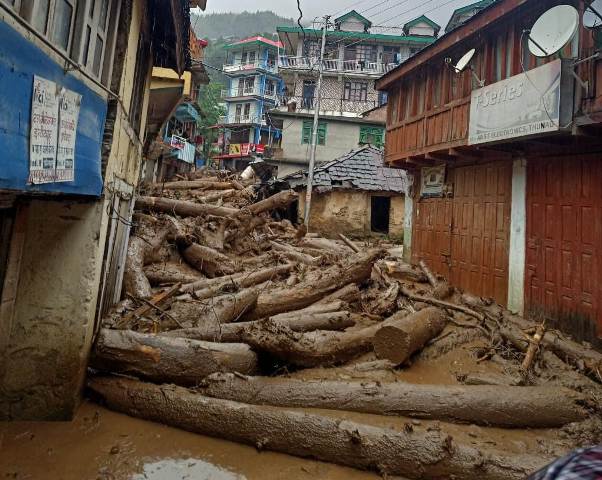 As environmentalists and local people have raised finger on a large number of timber logs seen floating along with gushing slush in Thunag bazaar, after a cloud burst in the area during the recent rain fury in the state on July 10, the working of forest department has come under the scanner of the state government.
The videos showing a large number of wooden logs were seen floating along with slush causing extensive damage in the area.
While several environmentalists have sought explanation from the officials of the forest department, three state committee members of CPM, Bhupinder Singh , Mahinder Rana and Jaivanti have demanded a thorough inquiry in the matter .
Social activist and local CPM leader Jaivanti said, "A road and helipad was constructed amidst Rain Galu forest for which a large number of green trees were cut down in a clandestine manner in the most unscientific manner without proper forest clearance during 2021 and 2022."
"The fallen trees were buried in the forest area and the recent cloud burst brought these down along with gushing water and slush from two nallas from the forest above Thuang ", she adds.
The CPM leaders said, "Since the area falls in Seraj Assembly constituency represented by former Chief Minister Jai Ram Thakur the state government should order a thorough inquiry in the matter."
Divisional Forest Officer Nacahan S S Kashyap said , " A cloud burst was reported above Thunag hill in the forest area which uprooted a large number of green trees and were seen floating in slush in Thunag ."
" An inquiry at the highest level is going on in the matter and a report will be submitted soon to the government," he added.
However, environmentalists are not convinced with his argument as they claim, " A large number of chopped timber logs gushing in Thunag bazaar can be seen in several videos."
Chief Minister Sukhvinder Singh Sukhu and PWD Minister Vikrmaditya Singh have also asked the forest department to conduct a thorough probe in the matter.