Thousands of vehicles were stuck on Mandi – Kullu (Manali) national highway as landslides caused by heavy rains during the past two days gave harrowing time to thousands of tourists and other passengers struck since Sunday night.
As a large number of tourists had to spend the night in their vehicles, thousands of vehicles were returned back by Mandi police from Nerchowk and Sunder Nagar on Monday.
One way traffic was restored in the afternoon on Monday on the highway but heavy traffic jams are continuing as vehicles are moving at snail's pace.
The highway was blocked at six mile near Pandoh where a portion of a hill slid during ongoing widening work on Mandi – Kullu national highway. Coming as a double whammy, the alternative route to Kulllu from Mandi via Kataula – Bajaura was also blocked by a landslide near Kamand.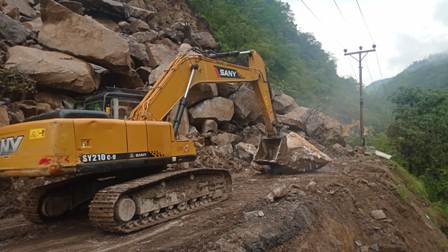 Additional SP Mandi Sagar Chand said , " Nearly ten thousand vehicles were stuck between Pandoh and Nerchowk since Sunday night and a large number of tourists and other passengers were stranded; we have sent back hundreds of tourist vehicles after explaining them about the traffic situation."
Deputy Commissioner Mandi Arindam Chowdhary is monitoring the situation and has instructed officials to restore traffic on all blocked roads and help people stranded in the traffic jam.