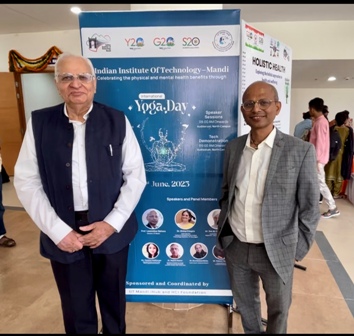 The G20 – S20 meet began at Indian Institute of Technology (IIT) Mandi on Wednesday.
The opening day was devoted to Yoga, also being celebrated International Yoga Day today; live Yoga sessions, penal discussions and technology demonstration to celebrate physical and mental benefits of Yoga were organized in the IIT campus.
Chairman of Board of Governors of IIT Mandi, Prof. Prem Vrat inaugurating the meet said, "This is a great initiative by IIT Mandi as Yoga is our oldest tradition with many efficacies, which is getting recognition at the world level now."
In his welcome address Director of the institute Prof. Laxmidhar Behara said,
"I welcome you all to the G20-S20 Meet at IIT Mandi. It is my pleasure to host all the participants on this occasion. The themes of this mega event have been set up keeping in mind the need of technological interventions of the state and the country."
In his Keynote address on 'Yogah Karmasu Kaushalam: Yoga – The Art of All Work', Prof. Behera said, "In today's event, we will focus on the power of Yoga and its importance in our modern lives. When we introspect and mediate ourselves, we experience something deeper which is inexpressible in any language or words".
He said, "Modern science is still trying to figure out a model which could explain this phenomenon; the art of consciousness is unique as consciousness is the awareness of internal and external existence. It is the intrinsic power associated with complex mechanisms. Consciousness exists in everyone. Every individual's conscious mind expresses itself as a plant, an aquatic, an animal, or a human."
Several speakers presented their papers on the subject and appealed to everyone to adopt Yoga in life as Yoga is not a religious ritual but a way of life."