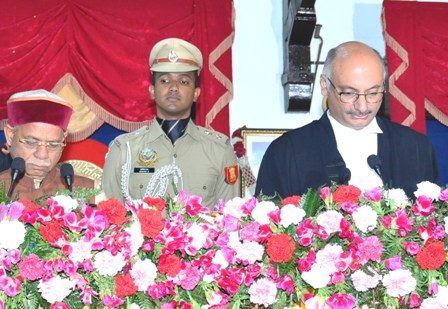 Justice Mamidanna Satya Ratna Sri Ramachandra Rao was sworn in Chief Justice of the Himachal Pradesh High Court on Tuesday.
Justice Rao was administered the oath of office by Himachal Pradesh Governor Shiv Pratap Shukla at Raj Bhavan Shimla. Chief Secretary Prabodh Saxena conducted the proceedings and read out the Warrant of Appointment issued by the President of India.
Born on August 7, 1966 in Hyderabad, Justice Rae did B.Sc (Hons) and LL.B from Osmania university Hyderabad in 1989. He was enrolled as an Advocate in September, 1989 and later obtained an LLM degree from Cambridge University, United Kingdom.
He was elevated as Judge of Andhra Pradesh High Court in June 2012 and remained a Judge of Punjab and Haryana Court. In August 2021 Justice Rao was appointed Chief Justice of Telangana High Court.
Chief Minister Sukhvinder Singh Sukhu, Leader of the Opposition Jai Ram Thakur, Vidhan Sabha Speaker Kudeep Singh Pathania, Cabinet Ministers, Judges of Himachal, Telanaga, Punjab and Haryana High Courts among other dignitaries were present on the occasion.