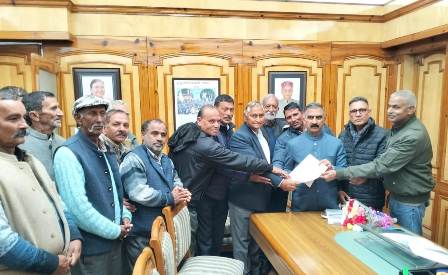 A delegation of Balah Bachao Kisan Sangharash Samiti met Chief Minister Sukhvinder Singh Sukhu in HP Assembly on Tuesday to appeal to him not to build the Greenfield Airport on fertile land in Balh valley.
The delegation led by executive president of the Samiti Prem Dass Chowdhary urged the CM to shift the Airport project to Jahu as suggested in the social assessment report prepared by the SR Asia team.
The Samiti members said, "It has become abundantly clear from the report the previous Jai Ram government was bent upon constructing the Airport on fertile land in Balh valley and it should be built at an alternative site in Jahu, which falls at the center of three districts of Mandi, Hamirpur and Bilaspur."
" The report has also suggested the 80 percent land required for the Airport is government barren land and only 20 percent land belongs to private people and proposed to shift the airport project from Balh valley to Jahu", the Samiti leaders added.
Secretary of the Samiti Nandlal Verma said, "On the basis of social survey hundred percent farmers have demanded market price instead of circle rate if their land is acquired for the project and 88 percent of them have demanded similar fertile land in lieu of their land acquired."
The Samiti members said, "The construction of the proposed Airport in Balh valley would render cash crop growers jobless and its construction would also lead to flooding in the area as it would be built on raised land."
President of the samiti Joginder Walia said, "The Chief Minister has asuure them to look into the matter find possibilities of shifting it to some other place."