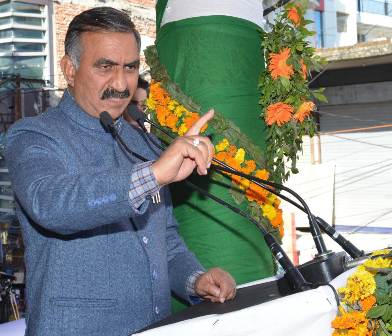 Chief Minister Sukhvinder Singh Sukhu was accorded a rousing reception on his maiden visit to his home district, after becoming the CM, at Gandhi Chowk Hamirpur on Saturday.
Addressing a public meeting the CM said, " It is a matter of pride for people of Hamirpur I have been given an opportunity to lead the state and I thank people of Hamirpur for giving wholehearted support to Congress party in general and to me in particular ."
The CM said, "Overall development of Hamirpur district would be my priority and all measures would be taken in this regard; Dr Radhakrishnan Medical College Hamirpur would be made a pioneering medical institution of the state by bringing latest technology and modern equipments to facilitate people of the area, besides opening a nursing institute."
He announced, "Funds would be provided for construction of a bus stand at Hamirpur, indoor stadium would be opened and Gasota Mahadeo temple complex would be developed for tourists."
Talking about implementation of poll promises by the state government, he said, "The state government is committed to restore OPS for state government employees, provide Rs 1500 to women in a phased manner and state government is determined to make Himachal as a developed state, but keeping in view economic situation it may be forced to take some tough decisions too," he added.
The CM said, "Rural economy would be strengthened by allocating Rs 1000 crore and assured the dispute between Adani Cements and Truck operators would be resolved through an amicable settlement soon."
He said, "The entire state is a family for me and I would remain available round the clock to redress people's grievances; during my 40 years political career I have become aware of problems of people."
Earlier, Hamirpur MLA Ashish Sharma welcomed the CM and presented him a memorandum about problems of Hamirpur.
Political Advisor to the CM, Sunil Sharma, KCC Bank Chairman Kuldeep Singh Pathania, Bhoranj MLA Suresh Kumar and Badsar MLA ID Lakhanpal also addressed the meeting.