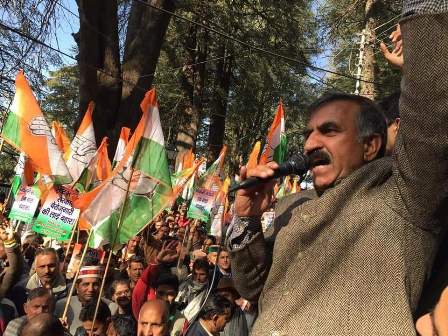 Sukhvinder Singh 'Sukhu' would be the next Chief Minister of Himachal Pradesh, While Mukesh Agnihotri would be Deputy Chief Minister.
The decision to elect Sukhvinder Singh as leader of the Congress Legislature Party (CLP) was taken after a meeting held at HP Vidhan Sabha on Saturday evening attended by 40 newly elected Congress MLAs.
Chief Minister of Chhattisgarh Bhupesh Bhaghel, Congress observer in the state conveyed the decision after holding consultation with the newly elected MLAs.
It was also decided to elect the leader of the opposition in the outgoing Assembly Mukesh Agnihotri as Deputy Chief Minister in the new Congress government.
Sukhvinder Singh is likely to take oath on Sunday.
While all Congress MLAs attended the CLP meeting, HP Congress in-charge Rajiv Shukla and former Haryana CM Bhupinder Singh Hooda also attended the meeting.