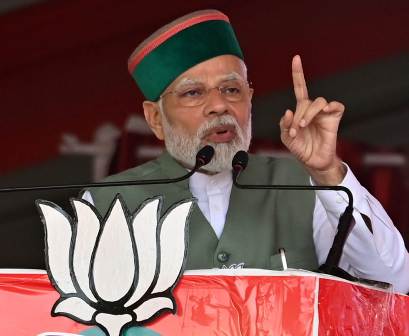 Prime Minister Narendra Modi targeted the previous Congress government for "alleged scams to get kickbacks in defence deals in the country ".
Addressing his first election rally at Sunder Nagar in Himachal Pradesh the PM accused, "The Congress leaders took kickbacks in defence deals and put Indian Defence Forces at risk, even delayed purchase of arms and ammunition for their vested interests."
He said, "Will mother or sister of any Army men not be concerned about the safety of their loved one? But I will not let this happen and our government is making every effort to make India self-reliant in arms and ammunition."
The PM said, "The Congress governments of Himachal were anti –development and kept hilly regions under- developed denying fruits of developments of various projects through delaying tactics but whenever there were BJP government it always tried to carry development forward in the state and completed important projects like Atal Tunnel, AIIMS Bilaspur and extending rail network etc."
He said, "The Congress governments always gave false promises to people during election and forgot the promises till next election and for more than fifty years they promised to eradicate poverty but our government has disbursed additional over Rs 60000 crore to people."
" The previous Congress government in the state made several promises in their election manifesto during the 2012 Assembly election but did not fulfill these till 2017 in the state and even scuttled development schemes launched by my government after coming to power in 2014", he added.
He said," The Congress government kept the One Rank One Pension Scheme (OROP) scheme pending for 40 years; promised it during elections and then forgot about it but our government resolved this issue." The PM said, "But what BJP promises we always fulfill it; we vowed to remove article 370 in J&K, promised to build Ram Mandir in Ayodhya and we did this."
He said, "Congress has always made false promises during elections so don't believe them and only BJP does what it promises."
The Prime Minister also appealed to people of the state to repeal the Double Engine government of Himachal and vote for BJP as he wants to do something for people here he can do it with their votes and promised he will not betray voter's trust.
Earlier, Chief Minister Jai Ram Thakur while addressing the public meeting thanked the Prime Minister for his unflinching support and liberal aid to the state government for building projects like AIIMS Bilaspur, Atal Tunnel and sanctioning Bulk Drug Park and launching bande bharat train etc. in the state.