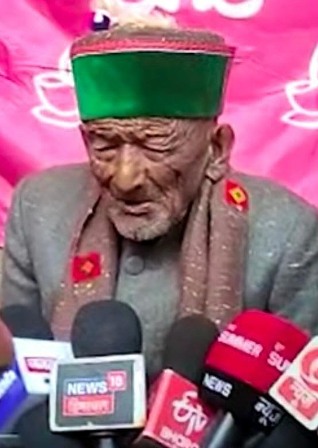 The first voter of Independent India Shiam Saran Negi passed away at his native village Kalpa in Kinnaur district early morning on Saturday at the age of one hundred and six years.
Negi , who had been casting his vote in all General and Assembly elections since 1951 had cast his vote for the 34th time on November 2nd 2022 for the ensuing Assembly election in Himachal Pradesh polling for which would be held on November 12.
He had polled first vote in the first General in 1951 while on polling duty in Shongtong polling station. A school teacher by profession, Negi could exercise his franchise first as the polling in the snow bound tribal area of Kinnaur was held ahead of the rest of the country .
As a member of a polling party he had tracked for about ten days to reach the polling station to conduct the polls.
Negi was also made brand ambassador by the Election Commission of India and was urging people to vote in the election. The election department had been giving him a red carpet welcome on his arrival at the polling booth for many years but due to his ill health he had opted to cast his vote from home this time.
Deputy Commissioner Kinnaur Abid Hussain said, "Negi would be cremated with full state honours at his native village Kalpa."