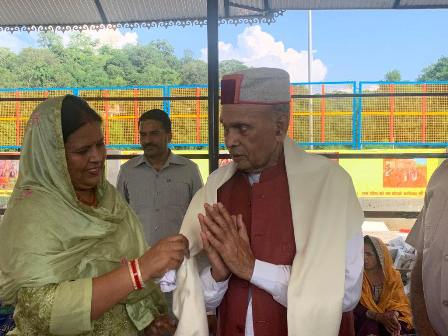 As former Chief Minister Prem Kumar Dhumal has reportedly shown his intention to contest next Assembly election from Sujanpur constituency in Hamirpur district, his candidature is still fraught with many political questions .
Dhumal led the BJP government in the state twice from 1998 to 2003 and 2007 to 2012 and was also BJP's Chief Ministerial face during the last Assembly election in 2017 but lost the CM's race after being defeated in Sujanpur constituency by Congress candidate Rajender Rana.
His defeat had sprung a surprise after which BJP leadership backed Jai Ram Thakur to become the next Chief Minister of the state. Stunned by loss of power, Dhumal was lying low for quite some time in state politics but has become active in Sujanpur constituency for the past some time.
There are reports Dhumal is keen to contest next Assembly election from Sujanpur if BJP leadership fields him. A section of media has been continuously backing his candidature.
The main argument of Dhumal backers is, "Winning every seat would be crucial for BJP to repeat its government in Himachal and only Dhumal can win Sujanpur seat by defeating Rajinder Rana; they feel the voters of Sujnapur have realized their folly of not electing Dhumal in the last election and Dhumal wants to avenge his defeat too."
"Though, anything is possible in politics but national level policy decision of Prime Minister Narender Modi to retire leaders above 75 years, not to promote family politics by giving power to more than one member of a family go against Dhumal's candidature and state BJP leadership has already effected a generational shift by banking on a relatively younger leader Jai Ram Thakur as Chief Minister," tells a political analyst.
"BJP leadership would be extra conscious not to send any wrong signals and destabilize Jai Ram Thakur to achieve its mission repeat in Himachal" , they opine.