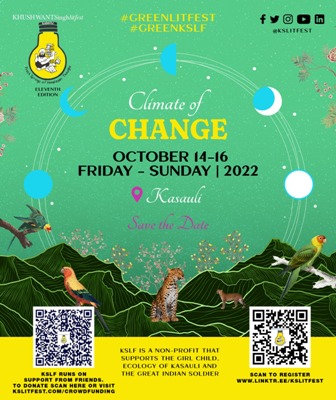 Three –day Khushwant Singh Litfest (KSLF) is being organized this year from October 14 to 16.
To celebrate 75 years of Indian Independence the theme for the fest this year would be "The Climate change: Are we Sprightly at 75; a vision to reflect on – Can our ancient land be a catalyst for the climate change"?
Spokespersons of the Lithest Ajay Bhardwaj and Kishie Singh said, "As we know -the ecosystem, flora and fauna in and around Kasauli is under attack of unscrupulous elements for their greed resulting into forest fires, landslides and damage to ecology and environment."
According to researchers 70 percent of total would population live in eight Asian countries — India, China, Bangladesh, Vietnam, Indonesia, Thailand, Philippines and Japan but climate change can have damaging effects in these countries.
As the world suffers – "keynote speaker of the fest Amitav Ghosh does not expect Mumbai to survive for another 30 years- beyond 2050".
"The climate change has led to flash floods in Bangalore, Varanasi, Pakistan and Europe and a matter of serious concern but do we have vision to meet the challenge for next 100 years – is a big question today ", feel the organizers.
The three-day Litfest will feature a distinguished panel of speakers including Booker winner Geetanjali Shree, Rajmohan Gandhi, Hari Prasad Chaurasia, Tusshar Kapoor, Raj Mohan Gandhi, Sathya Saran, Mahua Moitra, Pavan Varma, Usha Uthup, Muzaffar Ali and Mallika Sarabhai.
"For us at KSLF was an eclectic with many passions and have dealt several concerning issues like ecology, women empowerment, girl trafficking and would do it this time too," say the organizers.
Entry to the festival is free for all and registration can be done on: Khushwant Singh Literary Festival (google.com)