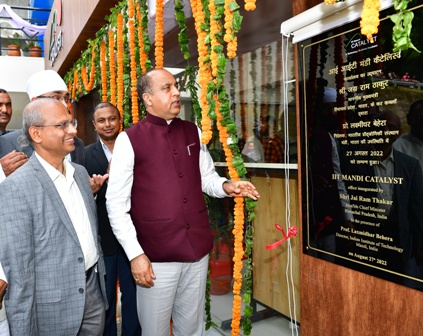 Chief Minister Jai Ram Thakur said the Indian Institute of Technology (IIT) Mandi is one of the top technological institutes of India and "it should focus in providing technology innovations in key areas like agriculture, horticulture, ecology & environment of Himalayas and develop technology to forewarn people about disasters happening in different parts of the state to reduce loss of human lives".
Speaking in the 6th edition of Himalayan Startup Trek (HST) -2022 at the IIIT campus on Saturday the CM said, "With the increase in importance of technology worldwide we must move with a higher speed to develop technology consummate with its growing demand to benefit people."
He said, " The HST -2022 is a symbol of the emerging startup ecosystem in Himachal Pradesh and the state government has contributed Rs 10 crore , the Central government Rs 70 crore and Department of Science and Technology Rs 110 for IIT Mandi iHub ."
The CM said , " The institute has made appreciable progress since its inception and improved air connectivity would definitely attract more scientists and technologists to work here in a serene and calm ambiance ."
The Chief Minister also inaugurated IIT Mandi Catalyst Co-Work space and iHub and HCI Foundation Office in the IIT Mandi Campus and also gave away prizes to HST competition winners.
Speaking on the occasion Director of the institute Prof.(Dr) Laxmidhar Behera said," The six years journey of HST definitely needs to be applauded but we need to create a perfect environment here to develop various technologies and thrust of startups should be on give something for downtrodden people of the society and not make money."
He said, "Our emphasis should be on developing technology for climate control to help farmers, to develop bio-technology and work on Indian Stress Management System by using ancient techniques of Yoga and Meditation."
Local MLA Jaswahar Thakur was present among dignitaries on the occasion.