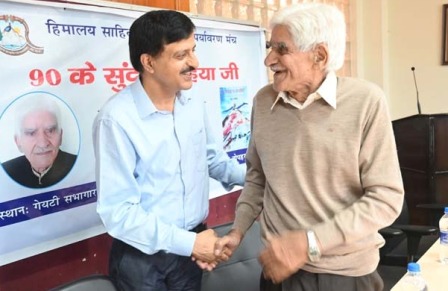 A function to honour noted poet and story writer Prof. Sunder Lohia was organized at Gaiety Theatre Shimla on his ninetieth birthday on Monday.
The stories of Prof. Lohia have been published in noted Hindi magazines of India; he has created a niche for himself in Hindi literature as his works had drawn attention of renowned writers like Rahul Sankrityan and Ageya.
The famous poet Ageya once said, "If you want to keep awake you should read poems of Sunder Lohia."
Secretary Language and Culture to Himachal Pradesh Government Rakesh Kanwar was the chief guest of the function organized by Himachal Sahitya, Sanskriti aur Paryawarn Manch.
Speaking on the occasion Kanwar said, "I have known Prof. Lohia as a literacy activist since the 90s who had joined literacy movement after retiring as Principal from a government college, besides being a writer, activist and an agitator."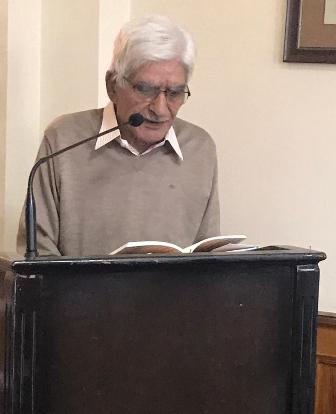 He said, "The literacy movement got a boost in Himachal Pradesh after intellectuals like Prof. Lohia joined the movement and later the state acquired a leading position at the national level."
Poet and writer Murari Sharma detailed important stories of Prof Lohia and also talked about his life and other achievements. He said, "Prof. Lohia has been a multi–faceted personality – a story teller, a poet and an activist who raised several social, cultural and religious issues."
President of the Manch SR Harnot also highlighted stories and poems of Prof Lohia.
A book of poems of Prof. Lohia ' Ek Asiwkar' was also released at the function. Several poets, writers, his family members and others were present on this occasion.