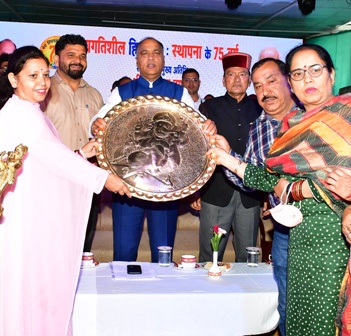 Chief Minister Jai Ram Thakur launched Pragatisheel Himachal – Sthapna Ke 75 Varsh ( Developing Himachal- 75 Years of Formation), to commemorate 75 years of formation of Himachal Pradesh at historic Chamba Chaugan during the closing ceremony of Minjar fair on Sunday .
Addressing a gathering on the occasion he said, "When India is celebrating 75 years of Independence Himachal Pradesh is also celebrating 75 years of its formation."
He said, "The state has made tremendous progress during this period in every sphere and credit for this goes to hard work and honest people, who have contributed in making the state one of the most developing states in the country with their sheer hard work and commitment despite many odds."
The CM said, "In 1948 per capita income of the state was just Rs. 240 which is now Rs. 2, 01,873, the GDP has gone up from Rs. 27 crore in 1948 to Rs. 1, 75,173 crore, literacy rate has risen to 83 percent from 4.8 percent and grain production gone up from 1.99 lakh MT to 15.14 lakh MT, besides overall growth in every field."
He said ," During four and half years of our government we have launched several welfare schemes for people like HIM CARE, Sahara Yojna , Grihani Suvidha Yojna and Shagun Yojna."
After participating in the concluding ceremony of Minjar fair, Thakur congratulated people of Chamba for celebrating the fair and said, "Even PM Modi made reference about the fair in his address today which is symbol of Hindu Muslim unity."
He announced to give international fair status to Minjar and inaugurated and laid down the foundation of several development projects during his tour. Several dignitaries were present on the occasion.