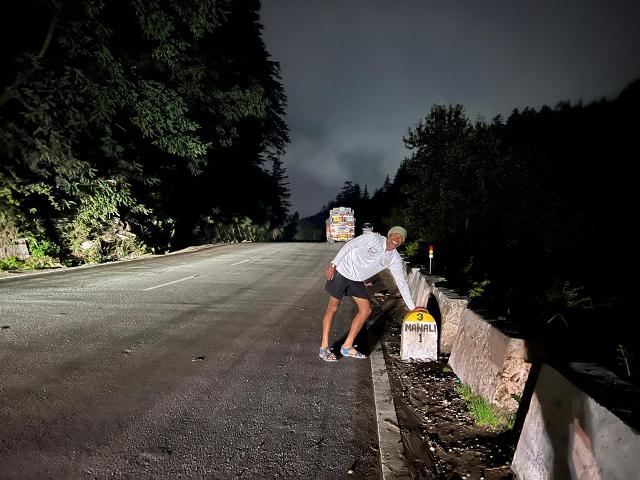 An adventurer of Nasik has walked from Leh to Manali to enter the Guinness Book of World Records by walking a distance of 427 kilometers in a record time of 4 days 21hours and 18 minutes (a world record.)
Dr Mahender Chanderkant Mahajan (46), a dentist by profession, had commenced his expedition from Leh on July 7 at 6.12 am and walked nearly 80 kilometers daily, taking a sleep of just about four to five hours.
His journey was flagged off from Leh in the presence of Additional Director General of Ladakh Police SS Khandare and noted scientist and engineer Sonam Wangchuk.
On the first day Dr Mahajan crossed Tanglang La Pass (17600 ft), highest pass on Leh – Manali Highway and walked 91 kilometers, on the second day he reached Pang covering a distance of 84 kilometers.
On the third day he walked for 76 kilometers and crossed Lachung La (16597 ft) and Nakeela (15547 ft). On day four he started his expedition from Sarchu and climbed Baralacha (15912ft) and also covered 75 kilometers .
On the last day Dr Mahajan started his journey from Sarchu and covered the remaining 95 kilometers to reach Manali at 3 am on July 12 , despite getting stuck up for more than one and a half hours to complete formalities to pass through the Atal Tunnel.
Dr Mahajan, who was in Mandi on Wednesday said, "Adventure sports runs in our family and I have been a keen tracker from my college days; my brother and I have won Everest Summiter (2019 and UltraCylist race across America."
He also holds the Guinness World Record for cycling from Srinagar to Kanyakumari in 10 days and 9 hours, in 2018.
He says, "Such adventures push me to set new goals in life which keep you healthy and fit throughout life, besides giving an immense pleasure."