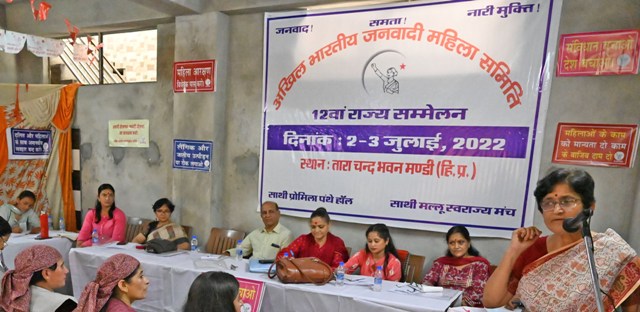 The 12th state conference of All India Democratic Women's Association (Akhil Bhartiya Janwadi Mahila Samiti) was inaugurated by national general secretary of the association Marriam Dhawle on Saturday at Mandi.
Addressing the conference she said, "The state conference here is being held at a time when women are facing several problems like unemployment, price rise, caste and gender discrimination etc but the Central Government has launched such policies which are helping a top few and majority population is forced to live in misery and distress."
She said, "The Government wants to give public health services in the private hands to benefit certain big industrialists but this has created problems for poor people as they cannot afford treatment in private hospitals and facilities in government hospitals are shrinking as the government spent only one percent on health sector despite COVID – 19 pandemic."
The AIDWA leader also exhorted women activists to strengthen the organization and fight exploitation of women and protect their democratic rights by launching joint struggles.
The conference also honoured several women activists who narrated their experiences in their fight against injustice and gender discrimination.
Earlier, chairman of the reception committee DP Gupta greeted the delegates to the conference.
State president of organization Dr Reena Singh and general secretary Phalma Chauhan said, "The two day conference would deliberate various issues related to women in the state and also chalk out a strategy to launch struggles."