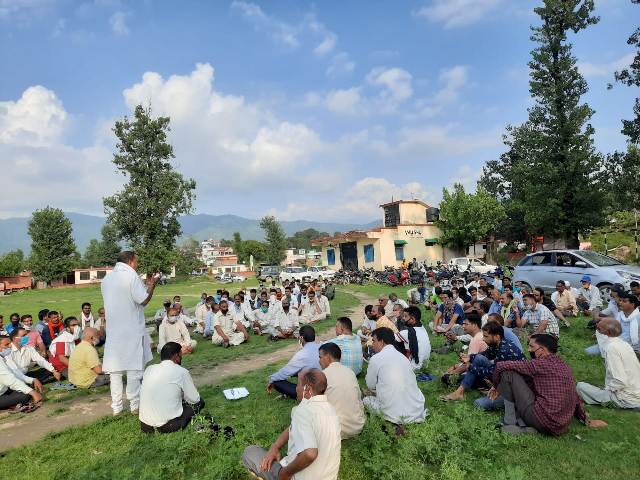 A section of farmers opposing the airport project in Balh valley have become vocal after announcement of circle rates for land by the state government, fearing low rates of their land proposed to be acquired for the project .
A survey team last week visited the proposed site for the airport after which the ball has been set rolling for preparation of a detailed project report of the project.
The farmers opposing the project have become alarmed after notification of "low circle rates of land".
Nand Lal Verma, convener of Balh Bachao Sangharsh Samiti formed to take up demands of farmers said, "As per the state government notification circle rates for villages in Kummi, Chhatru, Tawan, Siyanh, Dhaban, Bhaur, and Dugrain etc have been notified ranging from Rs 1.62 lakh per bigha to Rs 4.65 lakh bigha for land measuring 100 meters to 1000 meters and Rs 9.13 lakh per bigha to Rs 15. 69 lakh bigha for land measuring less than 100 meters, which are very low."
He said, "The land in Balh valley is very fertile and many farmers are fully dependent for their livelihood on their land and losing such a precious land for low rates notified through the circle rates would ruin them."
The Balh valley is also called mini Punjab with the land here being very fertile and farmers are engaged in cultivating cash crops like tomatoes, peas and other vegetables.
Joginder Walia, one of the organizers of the samiti said, "Farmers would be at a great loss if their land is acquired as per the circle rates as many of them would lose their mainstay so we have decided to oppose this."
The samiti is now demanding implementation of Right to Fair Compensation and Transparency in Land Acquisition, Rehabilitation and Resettlement Act -2013 passed by the parliament before acquiring their land for the airport project, besides applying factor 4 for giving compensation .
Deputy Commissioner Mandi Rugved Thakur said, "There is a set formula for declaring circle rates based on sale proceeds of land in that area during the last one year, the notification has been made for the whole state and opposing the rate for a particular area is not justified."